Nor Cal Fish Report
California Delta Fish Report for 8-27-2017
California Delta Fishing Report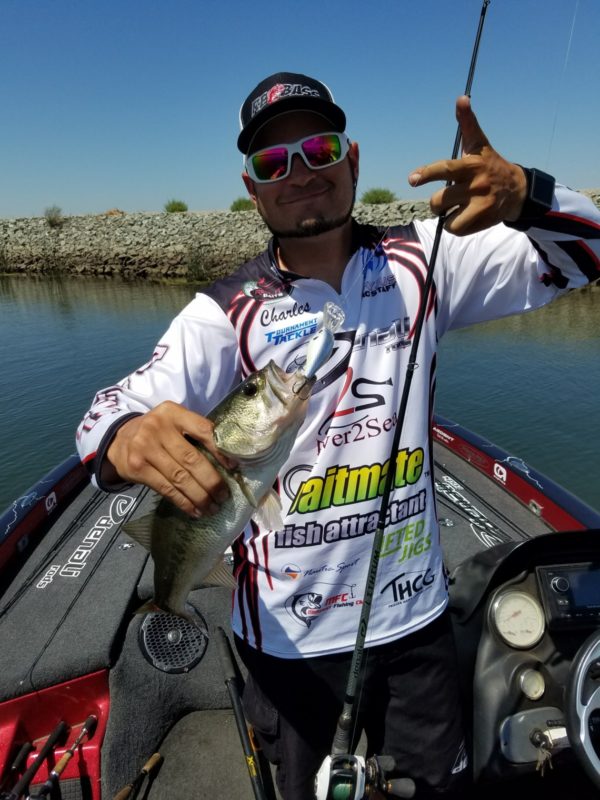 Outside Temp: 108F High 98F Low
Wind: 0-2 MPH
Water Temp: 66-70
Tide: High Outgoing to incoming

My Team partner Matt and I waited to head out at noon when we saw the tides we had hoped to fish. We knew it was going to be a horribly hot day so we were prepared with 2 gallons of cold water to stay hydrated and we drank every bit of it. We launched at New Hope Marina and went south towards Hog slough. There are a couple of deep holes I like to fish there in the summer with medium diving crank baits. When we arrived at the first deep hole I reached for my 7' Denali Rods Lithium, Medium action Crankbait rod paired with a 7.3:1 Ardent Apex Grand Reel, and chucked my River2Sea Goon crankbait in the color (I know it) across it and loaded up with a very long 2lber on the first cast. I figure this is going to be good today. I proceeded to hit the location from different angles hoping to find another with no luck. 10 min go by and I began to throw a 5" Wacky Rigged Yamamoto Senko around the weeds on the outside of the spot and picked up a couple small Bass. Since this location wasn't eventful for anything big I ran north. The tide up north was getting low enough to start showing nice weed lines on outside edges of points and structure. I pulled up to the right side of a Marina where I saw some clean Hydrilla on the edge of a flat with about 4 feet of water under it and docks nearby. I lowered the trolling motor and reached for my Denali Rods N2 Series Flippn Rod paired with Abu Garcia Revo Rocket and I punched in a 1.5oz River2Sea Trash Bomb w/Paycheck baits punch skirt in red/brown and a custom red color beaver from Reel it in baits on a Trokar 6/0 Flippn hook. First flip in to the outer edge of the hydrilla and "boom" bait was taking off under the boat quicker than my 9.0:1 Revo rocket could keep up with the fish. This one got away. Luckily I had not disturbed the spot and flipped back in. Another bass immediately slammed the bait and I nailed that one. It was a decent almost 3lb. My partner Matt punched in behind it and nailed another in the mid 2lb range. After seeing this many bunched up in a Hydrilla patch we headed farther up north chasing the tide out and checking out new water with similar features. We pulled into a cut and found great looking shore cover and nicely defined Tule Points with frog mats and weeds on a flat. We pulled up and could hear Bluegill popping under the mats and balls of shad spread out all over. I knew this was going to be a good spot. I reached down for my Denali Rods Lithium Frog Rod paired with a smaller River2Sea Bully Wa 2 55 Series in Dart Color. I love this color because when it is sitting on top of a weed mat it looks exactly like the Red Craws we are seeing out here currently. Plus the hook up ratio is spectacular! My first cast with the frog I noticed a movement in the mat between the Tule points. A Bass around 5LBs turned and crushed through the mat blowing the frog away. I quickly flipped back into the hole created by the bass and no taker L. I knew there had to be more fish in this spot with all the bait fish commotion and Bluegill. About three casts later with the frog and another bass came through in the 2lb range and nailed the frog. She choked it! Matt and I started punching and drop shotting around the outside weed edge. We ended up punching two on the outside still in the 2.5lb range. The shoreline across from us was recently sprayed and there was still some sparse green vegetation. We trolled across and punched a 4.5lb off the first mat on the first flip. With this showing better quality fish we continued this pattern down the bank and punched up a few more in the 3.5lb range. We stayed in the area knowing good fish were here and waited it out. We found that the Abalone colored River2Sea Bling Spinnerbait with Double Indiana blades paired with a Keitech 3.8 swimbait produced around 15 fish within the hour fishing the outgoing tide on grass flats in the same location, but all in the 1.5-2lb range. Once it started to get dark I continued with the Dart colored River2sea frog walking it across the grass on the incoming tide. I got quite a few blowups and stuck maybe 3 more small keepers. Matt threw the Double Buzz bait and as he came close to the side of the boat to lift out for another cast, a 6lb plus tried to follow it out of the water. That was a scary explosion! To finish the day, we went down a wooded bank on the incoming tide and I was chucking an Evolution Baits Grass Burner in Bluegill and about four casts down the bank I finished off the day with a 5lb crushing it. This bait definitely sticks them!

To recap the day, the most productive technique was the Punch, Buzz baits were certainly getting crushed with ferocity and the frog was producing good blowups. When we found fish, there were a lot of them bunched up in the grass mats or nearby. The low tide moved the better fish to where we could get to them and the best bite was 1 hour before low tide and up to 2 hours after incoming. Today's best 5 Bass went around 17lbs. Total fish landed 30-40. All fish were released happy and healthy. Hopefully some of this helps on your next Hot Weather Delta outing. Remember to load the boat with plenty of iced water! See you on the water!


< Previous Report
Next Report >
< Previous Report
Next Report >
More Reports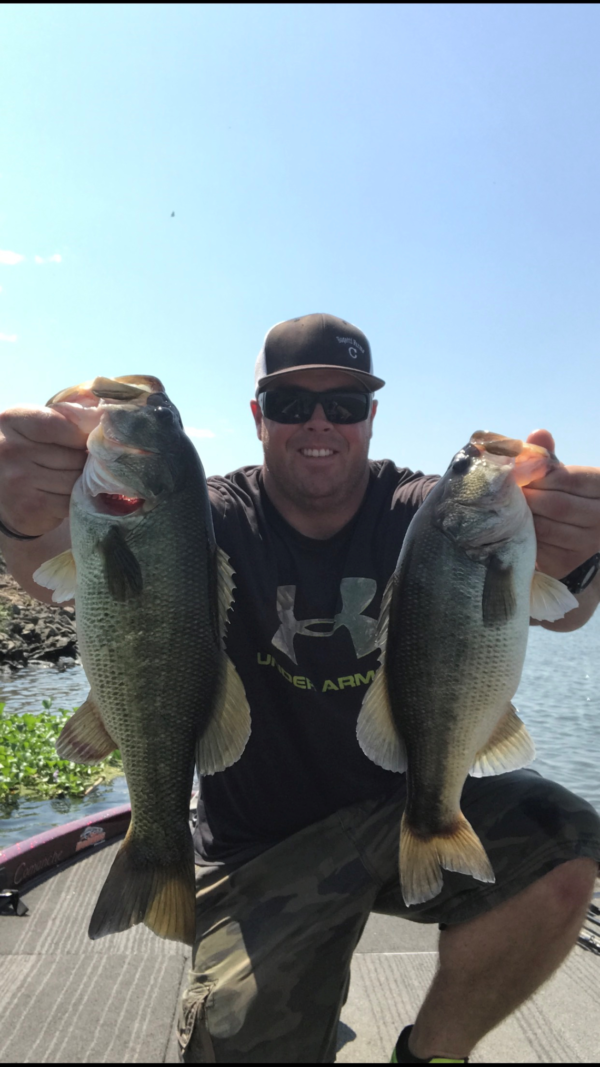 8-23-2017
Tide: outgoing Wind: WSW 2-4 mph Air temperature: 68-94 Water temperature: 77-82 Water clarity: 1-4 feet Water depth: 4-12 feet On August 22, 2017 I decided......
Read More
8-19-2017
Well I had a great day on Clear Lake today. I launched the boat and headed to Windflower Point. My thought was to throw jigs and crank baits on rock piles in 6 to 16 feet of water. I gave it a good 45 minutes, which was way to long, before moving on to another island to try some flipping. The flip bite didn't produce either. So at this point I decided to make a location change and head north.......
Read More

NorCal.FishReports.com © 2020. All Rights Reserved.
Website Hosting and Design provided by TECK.net