Nor Cal Fish Report
Trinity River Fish Report for 12-21-2016
Water, water and water everywhere
by E.B. Duggan
12-21-2016

I hope everyone has a great Christmas and that the day is full of family and good times.
Yes we have been having rain in the valley and most of the rivers are unfishable because of some flooding. The river bar in front of my house is just barely sticking its nose out of water after being under water for two days. I have only seen the river bar covered with water one time last year but it looks like I will be seeing it more often this year. The rain is good in that it helps fill the reservoirs but the snowpack is what matters because the snowpack is what keeps the reservoirs full and the rivers flowing in the spring and summer. It is really hard to say if the winter run steelhead are coming up the river because the river is so high and muddy. South Fork of the Trinity is flowing 4,500cfs into the main stem of the Trinity above my house. The weather forecast for the valley next week is for more rain with the possibility of some snow in the higher elevations. I have to notify you that Hwy 299 is blocked by a big rock slide at Big French Creek, just east of Del Loma until sometime around January 8th, so if you plan to come up to the Trinity to fish during the Christmas Holidays you should come up I-5 to fish the upper Trinity.
CDFW / Yurok Spawning Survey: main stem of the Trinity from Lewiston to Cedar Flat; Nov. 30, 26 redds were counted for a total of 1,625 redds for the season. Derek Rupert of USFW stated that the lower count possibly could be Coho redds as fall run Chinook have just about stopped coming into the Trinity.
TRH: The hatchery has reached their egg quota for the spring run; as of Oct 29 thru Nov. 4; Dec. 3 thru Dec. 9, Fall Chinook salmon entering the hatchery; adults 43, season total 1,508, Chinook Total 3,615, Coho 58, season total 451, steelhead 15, season total 531.
Klamath River Weir counts: Nov.30, Bogus Creek, 780 salmon, Shasta River 2,897 salmon, Scott River 959.
Fishing: Fishing has been very slow due to the heavy rains and rising rivers for the last week or so and it looks like we will have more rain coming (with some rivers flooding). I hope that we have a break in the weather so I can get some steelhead fishing in. I met one of the local fishermen the other day at a meeting and he stated that he has not caught a winter steelhead yet because the river is so high. I guess that tell you the story of fishing around Willow Creek and Hoopa. Once the river starts to drop you can bet there is going to be plenty of those Iron Heads moving up the Trinity.
Mid-Klamath: Iron Gate is releasing 1,490cfs; fishing above I-5 will be a little hard until the flows are dropped some. Once the water releases from Iron Gate are dropped below 1,000cfs fishing above I-5 will be very good. So keep an eye tuned to the Iron Gate water releases for some good fishing.
Lake Conditions: Whiskeytown is 87% of capacity with inflows of 1,123cfs and releasing 1,965cfs into Clear Creek and onto Keswick; Shasta is 87% of capacity (an increase of 7% &12ft), inflows are 19,734cfs and releases are 4,720; Keswick is 91% of capacity with inflows of 5,387cfs and releases are 4,839cfs; Lake Orville is 52% of capacity (a increase of 8% & plus 33ft), inflow is 19,915cfs and releases are 1,836cfs; Lake Folsom is 60% of capacity (plus 9% & plus 8ft.) inflows are 17,967cfs and releases are 30,229cfs.
Trinity Lake: The Lake is 92ft (an decrease of 10ft.) below the overflow and 50% of capacity (4% increase) Inflow to Trinity Lake is 5,151cfs and the Trinity Dam is releasing 313cfs to Lewiston Lake with 652cfs going to Whiskeytown Lake and on to the Keswick Power Plant with 4,889cfs being released to the Sacramento River.
Trinity River Flows and Conditions: Lewiston Dam releases are 313fs, water temps are 43.7 and air is 29 degrees at 11:00am. today. Limekiln Gulch is 5.0ft at 534cfs, water temps are 40.7 and air is289. Douglas City is 6.9ft at 820cfs, water temps of 39.5 and air is 28. Junction City is 2.9ft at 1,210cfs. Helena is 11.4ft at 1,720cfs with water temps of 40.2. Cedar Flat is 7.7ft at 3,500cfs. Willow Creek is estimated at 8,150cfs air is 37(and freezing) and water at 42. Hoopa is 19.9ft at 13.9Kcfs with water temps of 43.3. Flows at the mouth of the Trinity at Klamath River are estimated to be 33.9Kcfs.
Mid-Klamath: Iron Gate Dam releases are 1,490cfs. Seiad Valley is 6.6ft at 6,650cfs. Happy Camp is estimated at 7,740cfs. Somes Bar is estimated at 14.5Kcfs. Orleans is 11.7ft. at 20.0Kcfs. Klamath River at Terwer Creek is 19.4ft at 47.4Kcfs and water temperatures of 43.0 degrees. Flows at Smith River, Dr. Fine Bridge are 10.9ft at 7,880cfs.
Temperatures in the Valley last week were 54/34 degrees with 4.45inches of rain with a season total of 33.5in of rain and no snow but some freezing. Temperatures in the valley next week are expected to be 652/338 degrees; there is expected to be some rain and showers with some snow at higher elevations. Fishing will be cold so come prepared with a thermos of hot coffee or hot coca.
< Previous Report
Next Report >
< Previous Report
Next Report >
More Reports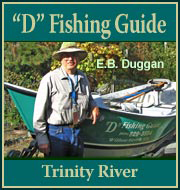 12-14-2016
I hope everyone had a great Turkey day and didn't eat too much Turkey and pumpkin pie. While down south with......
Read More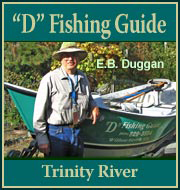 11-21-2016
The forecast is for steady rain and showers for the next week to ten days but not heavy rains. This......
Read More

NorCal.FishReports.com © 2019. All Rights Reserved.
Website Hosting and Design provided by TECK.net