Nor Cal Fish Report
Trinity River Fish Report for 11-21-2016
Trinity River and Happy Holidays!
The forecast is for steady rain and showers for the next week to ten days but not heavy rains. This should start winter run steelhead coming into the rivers.
I wish all my readers a Happy Thanksgiving and a Merry Christmas. I will be having family for the Holidays so it will be hard to get out a fishing report but I will try to fill in the best I can. Now is the time for you to ask Santa for that new fishing rod or more fishing gear.
There is a push by the Feds to renew water contracts with Westlands Water District at even lower rates than current rates. The bad part is that Westlands wants the Government to forgive $375 million of debt, and they will retire 100,000 acres of 600,000 acres irrigation of Federal Responsibility, plus they want the Feds to open new irrigation drainage. Where is all this water supposes to come from? Where is the money going to come from to make this holding source and where are they going to build it? None of these questions have been answered or presented to Congress yet and our two Senators Feinstein and Boxer are for the deal. Congressman Huffman has spoken up against this proposal and has taken some heat for it because he has asked these questions. This is a good time to write letters that ask these questions to our Congressmen! $375 million is a lot of money to forgive!!
CDFW / Yurok Spawning Survey: main stem of the Trinity from Lewiston to Cedar Flat; 124 redds last week for a total of 1,560 redds for the season.
TRH: The hatchery has reached their egg quota for the spring run; as of Oct 29 thru Nov. 4; Chinook salmon entered the hatchery; adults 183, season total 2,306, Coho 12, season total 12, steelhead 112.
Klamath River Weir counts: Bogus Creek, 763 salmon, Shasta River 2,830 salmon, Scott River 709 as of Nov. 6. Fishing: Fishing has been slow and hard in the upper reaches of the Trinity due to leaves in the river and no fresh steelhead showing up. It is a little early for the winter run but the forecast of rain for the next couple of weeks could very well change that and possibly flush out the leaves in the upper part of the river that has a tendency to make the fish spooky. The word is that the rapids at the Bucktail area is ok for rafts but a little hard on drift boats and should be fishable unless that area gets heavy rain from the coming storms. The coming storms /rains should start more steelhead coming into the Klamath- Trinity River Basin but that is not a guarantee. Between Thanksgiving and Christmas is usually when the winter run steelhead start showing up in the Lower Trinity. For sure January / February those Iron Heads are here! In the past when the river starts to drop between Thanksgiving and Christmas is when I have been able to hook many fresh Iron Heads right off the river bar in front of my house. Right now the Trinity below South Fork is muddy and blown out.
Mid-Klamath: Iron Gate is releasing 1,010cfs; fishing above I-5 should be fair to good for trout with some nice adult steelhead in the mix. Below I-5 it looks like it would be a wild guess about fishing for the next week or so. Seiad Valley river gauge is flowing 2,650cfs so any further down river would be even harder to fish. The weather forecast for this area is expected to get more rain. Orleans, Weitchpec and down river are blown out.
Lake Conditions: Whiskeytown is 85% of capacity with inflows of 841cfs and releasing 588cfs into Clear Creek; Shasta is 62% of capacity (increase of 0% & 0ft), inflows are 84,741cfs and releases are 4,247cfs; Keswick is 85% of capacity with inflows are 4,789cfs and releasing 4,866cfs; Lake Orville is 43% of capacity (a increase of 3% & plus 4ft), inflow is 2,985cfs and releases are 3,717cfs; Lake Folsom is 40% of capacity (plus 1% & plus 2ft), inflows are 2,425cfs and releases are 1,092cfs.
Trinity Lake: The Lake is 107ft (an decrease of 2ft.) below the overflow and 44% of capacity (3% increase) Inflow to Trinity Lake is 2,062cfs and the Trinity Dam is releasing 530cfs to Lewiston Lake with 213cfs going to Whiskeytown Lake and on to the Keswick Power Plant with 4,789cfs being released to the Sacramento River.
Trinity River Flows and Conditions: Lewiston Dam releases are 317fs, water temps are 49.9 and air is 47 degrees at 10:00a.m. today. Limekiln Gulch is 4.8ft at 391cfs, water temps are 49.1 and air is 48. Douglas City is 6.4ft at 492cfs, water temps of 48.5 and air is 48. Junction City is 1.9ft at 562cfs. Helena is 9.3 at 706cfs with water temps of 48.4.
Cedar Flat is 4.6ft at 1,420cfs. Willow Creek is estimated at 3,270cfs, air is 53 and water at 49. Hoopa is 15.7ft at 4,580cfs with water temps of 49.8. Flows at the mouth of the Trinity at Klamath River are estimated to be 13.7Kcfs.
Mid-Klamath: Iron Gate Dam releases are 1,010cfs. Seiad Valley is 3.8ft at 2,650cfs. Happy Camp is estimated at 4,140cfs. Somes Bar is estimated at 7,3200fs. Orleans is 7.7ft. at 9,210cfs. Klamath River at Terwer Creek is 12.8ft at 15.1Kcfs and water temperatures of 49.6 degrees. Flows at Smith River, Dr. Fine Bridge are 11.8ft at 10.2Kcfs.
Temperatures in the Valley last week were 65/40 degrees with 2.55inches of rain with a season total of 19.65in of rain and 0.00in. of snow. Temperatures in the valley next week are expected to be 60/38 degrees, next week is expected to be partly cloudy with showers and rain and then more showers.
Good Fish'en and Good Luck but remember; "Keep your tip up with a tight line lands fish."
< Previous Report
Next Report >
< Previous Report
Next Report >
More Reports

11-15-2016
If one can believe the weather forecasts, the Trinity River Valley can expect more rain in the next two weeks.......
Read More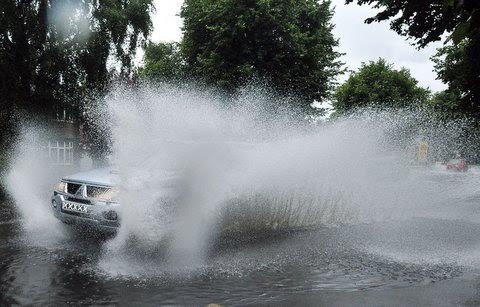 11-14-2016
Every winter at the collision repair center I talk to drivers that received a speeding ticket after they had a......
Read More

NorCal.FishReports.com © 2019. All Rights Reserved.
Website Hosting and Design provided by TECK.net