Nor Cal Fish Report
Trinity River Fish Report for 11-7-2016
Winter Run Steelhead in the Trinity
 As the storms keep piling up, the Reservoirs start to recover from the drought and the rivers and streams flow into the main stems of the rivers. With flows returning to winter dimensions, more fish are able to reach their spawing grounds in the upper reaches of the streams. We are close to coming back to a normal type of winter rainfall. I haven't seen this much rain this early in the rain season since before the drought. This is a good thing because the northern part of the state has been parched long enough and I am seeing more fish being able to go up the feeder streams of the river. This brings me to the point of conversation: Are spawning fish (Coho & Steelhead) able to get up to their traditional spawning grounds? I believe that time will tell that yes, they have been able to reach traditional spawning grounds this year. Hopefully, this will continue for the next couple of years and fishing will go back to a more normal type of fishing year!
Back to the point of Farmers vs. Fish; I think the two industries need to get together and discuss / focus on the problem of water, 1) we do need more storage area for water, 2) there has to be a better usage / conservation of water by everyone in the state, and 3) there should be more local input as to how the water is to be used and just not just government agencies having the last say so! Resale of water to other agencies for a profit should not be available to anyone ever!! The water of California belongs to the people, not the state, not the farmers or not the fish! A total review of water use from rivers and water suppliers should be reviewed so that one area is NOT over used or over drained.
The Bureau of Reclamation and the State Water Control Board have over used their authorities and bend to the highest authorities that have influence on them. The people of California passed a water bond several years ago and the monies from those bonds we to be used for improvement of water storage, water conveyance and very little of those monies have been used for what that purpose
TRH: The hatchery has reached their egg quota for the spring run; as of Oct 29 thru Nov. 4; Chinook salmon entered the hatchery; adults 183, season total 2,306, Coho 12, season total 12, steelhead 112.
Junction City Weir: The J C weir has been pulled due to high water.
Willow Creek Weir counts: high water from storms have moved the weir and efforts of recovering it are under way
Klamath River Weir counts: Bogus Creek, 346 salmon, Shasta River 2,828 salmon, Scott River 160 as of Oct 18. Fishing: Fishing for the last week has picked up again as the rivers have dropped. The Lower Trinity was not fishable due to the high water flows and muddy water coming from the South Fork of the Trinity. The upper Trinity from Lewiston down to Douglas City has been hard fishing due to the leaves in the river even though there were plenty of fish in that section of the river and because of the leaves fly fishing has been difficult because the fish have been spooky. Todd LeBoeuf, of Tiger T Guide service, fished from Bucktail down to Pigeon Point and was able to land 3 to 4 adult steelhead per trip using plugs with a bit of bait on the plug. He told me that it could be that they were fishing over the same fish and a change was needed to entice the fish to strike. Trouble at Bucktail launch, launch has been closed to only 4 parking spaces and there is a bad drop after the rehabilitation area. You have to rope you boat or raft through it because of the nasty drop.
Mid-Klamath: Iron Gate is releasing 1,010cfs and fishing above I-5 was fair to good for trout and adult steelhead but as you went down river fishing got hard due to high water flows. Seiad Valley river gauge was flowing 2,380cfs so any further down river would be fruitless for the time being. Watch the weather forecast for that area because fishing will pick up just as soon as it stops raining for a couple of days. Orleans, Weitchpec and down river are blown out as far as fishing goes.
Lake Conditions: Whiakeytown is 88%of capacity with inflows flows of 94cfs and releasing 760cfs into Clear Creek; Shasta is 62% of capacity (increase of 2% &2ft), inflows are 4,944cfs and releases are 3,985cfs; Keswick is 88% of capacity with inflows are 4,988cfs and releasing 3,985cfs; Lake Orville is 44% of capacity (a decrease of 0% & minus 0ft), inflow is 1,877cfs and releases are 3,362cfs; Lake Folsom is 38% of capacity (plus 3% & plus 6ft), inflows are 1,963cfs and releases are 1,315cfs.
Trinity Lake: The Lake is 110ft (an increase of 6ft.) below the overflow and 42% of capacity (2% increase) Inflow to Trinity Lake is 1,501cfs and the Trinity Dam is releasing 278cfs to Lewiston Lake with 20cfs going to Whiskeytown Lake and on to the Keswick Power Plant with 3,985cfs being released to the Sacramento River.
Trinity River Flows and Conditions: Lewiston Dam releases are 317fs, water temps are 51.5 and air is 56 degrees at 11:00a.m. today. Limekiln Gulch is 4.7ft at 324cfs, water temps are 51.5 and air is 55. Douglas City is 6.2ft at 425cfs, water temps of 52 and air is56. Junction City is 1.6ft at 487cfs. Helena is 9.7 at 866cfs with water temps of 51.7.
Cedar Flat is 4.8ft at 1,520cfs. Willow Creek is estimated at 2,265cfs, air is 60 and water at 52.5. Hoopa is 14.7ft at 3,090cfs with water temps of 53.1 Flows at the mouth of the Trinity at Klamath River are estimated to be 9,680cfs.
Mid-Klamath: Iron Gate Dam releases are 1,010cfs. Seiad Valley is 3.5ft at 2,370cfs. Happy Camp is estimated at 2,699cfs. Somes Bar is estimated at 4,5820fs. Orleans is 6.5ft. at 6,590cfs. Klamath River at Terwer Creek is 12ft at 12.3Kcfs and water temperatures of 52.7 degrees. Flows at Smith River, Dr. Fine Bridge are 10.2ft at 3,690cfs.
Temperatures in the Valley last week were 63/44 degrees with 2.35inches of rain with a season total of 16.68n of rain and 0.00in. of snow. Temperatures in the valley next week are expected to be 72/45 degrees, next week is expected to be partly cloudy with some sunshine and scattered showers early on with possible showers later in the week.
Good Fish'en and Good Luck but remember; "Keep your tip up with a tight line lands fish."
< Previous Report
Next Report >
< Previous Report
Next Report >
More Reports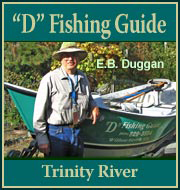 10-31-2016
This storm, (4.6in), plus what has already dropped from the skies, another 10 inches, has brought in lots of water......
Read More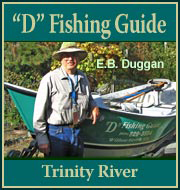 10-26-2016
This last storm brought in a little less rain than the last storm, but it brought a lot more fresh......
Read More

NorCal.FishReports.com © 2019. All Rights Reserved.
Website Hosting and Design provided by TECK.net