Nor Cal Fish Report
Trinity River - Upper Fish Report for 9-18-2016
Salmon are Moving into Trinity as Flows Diminish
Sorry but I was called out of town last weekend just when the mouth of the Klamath broke open and fresh Fall Chinook started to head up the river. The water flows will start dropping again Sept. 20th and we should see more fresh salmon and steelhead head up the Lower Klamath towards the Trinity.
The Out-migrant Monitoring of smolt (wild young) at the Willow Creek screw trapping station was very inconsistent due to the increased water flows so the count was inconsistent until the last week in May at which time the counts increased to more than 1,000 per week. This is a good indicator of survival rate for the outgoing young fish for two years from now. The same thing was for the count at the Willow Creek weir. Until the week of Sept. 3rd the W C weir was counting more steelhead than salmon. We knew that the expected return of Fall Chinook was going to be very low but until Sept it looked like there was going to be NO appreciable return of Fall Chinook.
With the opening of the mouth of the Klamath, the lowering of water flows and the cooling of water temperatures, salmon started to pour into the mouth and Lower Klamath, thus the filling of the Lower Klamath salmon quotas in just one weekend. Now that the area is experiencing cooler weather and colder water we are seeing a good influx of salmon. The W C weir counted 70 salmon the first week of Sept. I think this is one of the latest years that I have seen fall salmon arrive in Willow Creek. They are here now, so fishing should be nothing but better into the winter run of steelhead. The good part is that fishing is going to only get better from this date forward! You might want to get your fishing gear repaired and ready as well as make your reservations with your favorite guide because I really have no idea of how long this good fishing is going to last.
All Tribal Ceremonies on the Klamath are over and the Upper Klamath is open to fishing from Weitchpec to the Iron Gate Dam.
Lower Klamath River Harvest: The Lower Klamath fishing for Fall Chinook is closed to the taking of adults and only open to the keeping of jack salmon 22 inches of smaller.
Junction City Weir: Sep 3 thru Sep 9; Chinook salmon, 1 adult, 0 jacks, total 95, season total 343; Coho 0; Steelhead, 2 adult, 0-½-pounders, total 343; Brown trout 01, adults 03, total 9.
Willow Creek weir: Sep 3 thru Sep 9; Chinook adults 60, jacks 10, season total 132; Coho 0; Steelhead, ½-pounders 1, adults 52, season total 187. Last week the WC weir counted 125 steelhead and 56 salmon.
Fishing: Fishing is picking up in the Lower Trinity as the water flows start to ramp down. I am seeing great fishing for salmon and steelhead. Both are taking fresh cured roe in about quarter size chunks. Frozen or pro cure roe is doing very well also for hooking those Iron Heads. The steelhead are also hitting on #3 spinners with silver blades and orange bodies as well as night crawlers. The Upper Trinity had slowed some for the past two weeks but I would expect that Cedar Flat will be seeing some of those steelies very soon. When fishing Cedar Flat, be sure you fish on the up river side to prevent getting a citation. Dell Loma should be seeing some of the steelhead if not a few of the salmon by next weekend. As for the Junction City section of the river, it should be a week to ten days before the fish being counted at the W C weir will be in that area of the river.
Mid-Klamath: Increased water releases from Iron Gate have improved the fishing but I did not get home early enough to make contact with some of the people who fish that area of the river. The Gap Fire is still burning in the Happy Camp to Seiad Valley area but the roads are open and fishing is fair and smoke is not that heavy so I would believe one could fish in that area.
Conditions: Whiskeytown is 98% of capacity with inflows of 444cfs and releasing 183cfs to Clear Creek; Shasta is 64% of capacity (decrease of 4% &78ft), inflows are 1,576cfs and releases are 8,369cfs; Keswick is 93% of capacity with inflows are 8,596cfs and releasing 8,545cfs; Lake Orville is 48% of capacity (a decrease of 3% & minus 12ft), inflow is 1,575cfs and releases are 4,2871fs; Lake Folsom is 33% of capacity (minus 2% & minus 3ft), inflows are 1,173cfs and releases are 1,733cfs.
Trinity Lake: The Lake is 115ft (an increase of 5ft.) below the overflow and 41% of capacity (2% decrease) Inflow to Trinity Lake is 120fs and the Trinity Dam is releasing 1,488cfs to Lewiston Lake with 448cfs going to Whiskeytown Lake and on to the Keswick Power Plant with 8,545cfs being released to the Sacramento River.
Trinity River Flows and Conditions: Lewiston Dam releases are 1,040cfs, water temps are 52.3 and air is 88 degrees at 12:00p.m. today. Limekiln Gulch is 5.5ft at 1,060cfs, water temps are 52.6 and air is 78. Douglas City is 7.1ft at 1,020cfs, water temps of 52.6 and air is 82.Junction City is 2.6ft at 978cfs. Helena is 9.9ft at 953cfs with water temps of 57.1. Cedar Flat is 3.9ft at 1,020. Willow Creek is estimated at 1,060cfs, air is 84 and water at 60. Hoopa is 12.2ft at 1,120 cfs with water temps of 63.7. Flows at the mouth of the Trinity at the Klamath are estimated to be 2,670cfs and the water temperatures gauges are out or removed.
Mid-Klamath: Iron Gate Dam releases are 1,050cfs. Seiad Valley is 2.6ft at 1,150cfs. Happy Camp is estimated at 1,153cfs. Somes Bar is estimated at 1,414cfs. Orleans is 2.7ft. at 1,550cfs. Klamath River at Terwer Creek is 8.2ft at 2,810cfs and water temperatures of 66.3 degrees. Flows at Smith River, Dr. Fine Bridge are 4.7ft at 221cfs.
Temperatures in the Valley last week were 96/47 degrees with 0.00 inch of rain with a season total of 80.05in of rain and 1.35in. of snow. Temperatures in the valley next week are expected to be 88/44 degrees, with clouds and partly sunny the first part of the week and sunshine for the weekend.
Good Fish'en and Good Luck but remember; "Keep your tip up with a tight line lands fish."
< Previous Report
Next Report >
< Previous Report
Next Report >
More Reports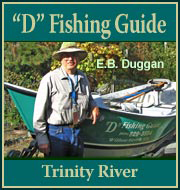 9-6-2016
August 22 the Bureau of Reclamation made the decision to increase water flows to help decrease Ich and improve water......
Read More
"D" Fishing Guide Reports
for Monday, August 22nd, 2016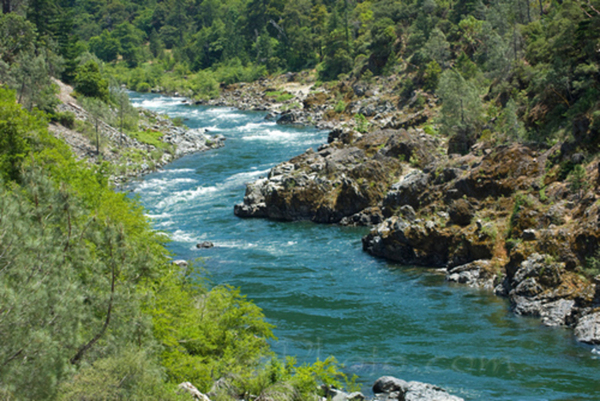 Klamath River - Lower
:
Ich in Lower Klamath
Klamath River - Lower
:
Iron Gate Cold Water Releases
Trinity River
:
Trinity River Flows and Conditions

NorCal.FishReports.com © 2019. All Rights Reserved.
Website Hosting and Design provided by TECK.net