Nor Cal Fish Report
Trinity River Fish Report for 9-6-2016
Increased water flow improves fishing
August 22 the Bureau of Reclamation made the decision to increase water flows to help decrease Ich and improve water conditions on the Lower Klamath. The increased water flows not only helped to open the mouth of the Klamath and cool the Lower Klamath, it also started the Fall salmon run coming into the river. Fishing at the mouth of the Klamath improved so much that by the weekend all of the Lower Klamath salmon quota was caught, at the spit and the Lower Klamath was closed to the take of adult Chinook and only jacks may be retained. The good part is that the Upper Klamath and Trinity Rivers opened to fishing for Fall Run Chinook. Even better, there were plenty of fresh salmon and some nice steelhead to be caught. The cooler water from the Trinity did do some good but Trinity Lake lost more volume and the cold water pool was lowered. This could become a problem if the area does not receive a normal snow and rain fall this winter.
What will the rivers do for cold water next year? There has to be a way to provide more water storage or we are going to not only lose more fish runs, but farmers and cities are going to be out of water for their needs. Remember, farmers grow our food and they need water to do that. Cities need water not only to fight fires, but for the people that live there.
Sorry about last weekend but I went out of town to celebrate a family event and was unable to make a fishing report, and I also was not able to keep up with the water releases. I know many of you readers use the report for fishing, but also for other recreation activities as well. Cooler weather in the area has changed conditions in the Klamath -Trinity River Basin. For the last couple of weeks we had nothing but HOT weather, but now we are going into normal fall weather conditions. Come prepared for cool nights and warm days, but most of all, be aware that the Trinity River is flowing much faster and higher than normal at this time of year.
Lower Klamath River Harvest: below Hiwy 101 Bridge Aug.26, 2016; total adult Chinook harvested 588, quota for the Lower Klamath filled; Only salmon under 22 inches may be retained; Steelhead harvested below Hwy 101 Bridge, ½-pounders 2, adults 12, total 23. Steelhead harvested above Hwy 101 Bridge, ½-pounders 0, adults 0; steelhead released ½-pounders 77, adults 114, total steelhead released 279.
Junction City Weir: Aug 13 thru Aug 19; Chinook salmon, 17 adults, 22 jacks, total 39, season total 84; Coho 0; Steelhead, 1 adult, 0-½-pounders, total 21; Brown trout 1, adults 3, total 9.
Willow Creek weir: Aug 20 thru Aug 26; Chinook total 6, season total 6; Coho 0; Steelhead, ½-pounders 0, adults 2, total 9.
Fishing: Fishing this past week has really improved in the Upper Trinity. The cooler water brought on the bite. I heard that fishing was light as there were more rafters on the river than guides but those who did fish were able to hook a good amount of adult salmon and fill in the action with some nice ½-pounders. This is really good news because with the water flow increases the Trinity is seeing more salmon coming into the lower section of the river. You have to be careful because of the higher water levels but if you pick you location you are going to get hookups, both salmon and steelhead. I didn't get a report from Junction City or Del Loma but I would imagine that they are seeing fish. In Willow Creek Kimtu Beach and the lower area of big Rock are having some fair to good results in the early mornings and late evenings. I have no reports from the Hoopa area but if we are hooking fish in the Willow Creek area you can bet they are catching fish in Hoopa.
Mid-Klamath: Since BOR increased water releases from Iron Gate fishing has improved around Weitchpec and Orleans but further up river in the Happy Camp area there is a large fire called the Gap Fire and in the Seiad Valley area there has been road closures as well on Hwy 196 below Wetchpec due to another fire in that area. It is Fire Season and we are having fires in northern Calif. so if you plan on coming up to fish please call ahead for any road closures of heavy smoke. Right now the Trinity has not been affected by heavy smoke but that could change if we were to get some high winds. The smoke does not bother the fish because they are under water but it could be a bother to fishermen if they have some breathing problems.
Conditions:
Whiskeytown is 98% of capacity with inflows of 460cfs and releasing 408cfs to Clear Creek; Shasta is 68% of capacity (decrease of 4% & 8ft), inflows are 2,566cfs and releases are 8,659cfs; Keswick is 93% of capacity with inflows are 9,116cfs and releasing 9,439cfs; Lake Orville is 51% of capacity (a decrease of 5% & minus 17ft), inflow is 1,032cfs and releases are 6,3471fs; Lake Folsom is 35% of capacity (minus 6% & minus 53ft), inflows are 1,642cfs and releases are 2,112cfs.
Trinity Lake: The Lake is 110ft (an increase of 5ft.) below the overflow and 43% of capacity (2% decrease) Inflow to Trinity Lake is 26cfs and the Trinity Dam is releasing 1,675cfs to Lewiston Lake with 475cfs going to Whiskeytown Lake and on to the Keswick Power Plant with 9,439cfs being released to the Sacramento River.
Trinity River Flows and Conditions:
Lewiston Dam releases are 1,200cfs, water temps are 51.2 and air is 59degrees at 10:00a.m. today. Limekiln Gulch is 5.7ft at 1,230cfs, water temps are 51 and air is 54. Douglas City is 7.3ft at 1,170cfs, water temps of 51.2 and air is 58.Junction City is 2.8ft at 1,160cfs. Helena is 10.3ft at 1,150cfs with water temps of 51.5. Cedar Flat is 4.2ft at 1,603. Willow Creek is estimated at 1,081cfs, air is 62 and water at 583.5. Hoopa is 12.2ft at 2,180 cfs with water temps of 62.1. Flows at the mouth of the Trinity at the Klamath are estimated to be 2,880cfs and water temperatures of N/A degrees at Weitchpec. Water temperatures on the Klamath at Tully Creek are N/A.
Mid-Klamath: Iron Gate Dam releases are 1,010cfs. Seiad Valley is 2.1ft at 1,150cfs. Happy Camp is estimated at 1,188cfs. Somes Bar is estimated at 2,442cfs. Orleans is 2.5ft. at 1,600cfs. Klamath River at Terwer Creek is 8.3ft at 3,040cfs and water temperatures of 66.4 degrees. Flows at Smith River, Dr. Fine Bridge are 4.8ft at 244cfs.
Temperatures in the Valley last week were 100/50 degrees with 0.00 inch of rain with a season total of 80.05in of rain and 1.35in. of snow. Temperatures in the valley next week are expected to be 90/45 degrees, with sunshine all week. Good Fish'en and Good Luck but remember; "Keep your tip up with a tight line lands fish."
< Previous Report
Next Report >
< Previous Report
Next Report >
More Reports
"D" Fishing Guide Reports
for Monday, August 22nd, 2016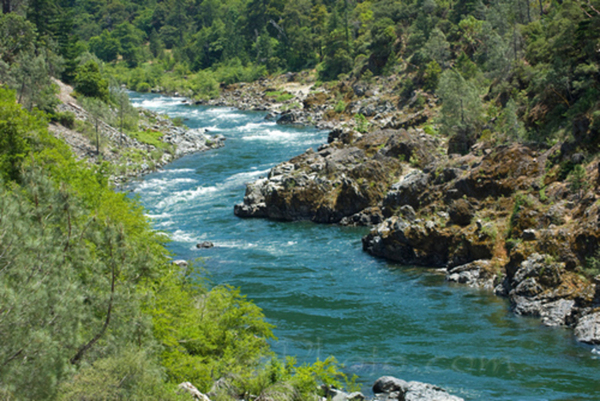 Klamath River - Lower
:
Ich in Lower Klamath
Klamath River - Lower
:
Iron Gate Cold Water Releases
Trinity River
:
Trinity River Flows and Conditions
"D" Fishing Guide Reports
for Thursday, August 18th, 2016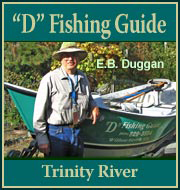 Klamath River - Lower
:
Tribal Ceremonies, Hot Weather and Regulations
Trinity River
:
Trinity Lake Update
Trinity River
:
Trinity River Update

www.NorCalFishReports.com © 2020. All Rights Reserved.
Website Hosting and Design provided by TECK.net