Nor Cal Fish Report
Lake Almanor Fish Report for 11-6-2013
Almanor Lake Fish Report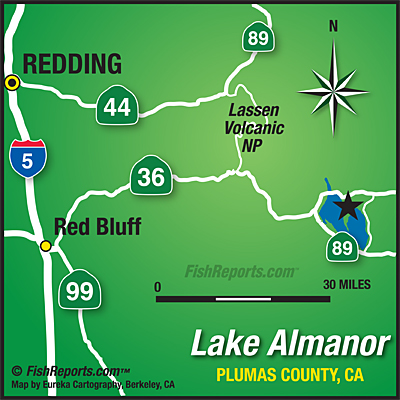 by Nor Cal Fish Reports
11-6-2013

Fishing pressure has been very light, especially during mid week. Several reports of quality fall fishing came in from several different areas.
Fast action lures have been the ticket, fast meaning 2.7 to 3.3 mph. Seems like the Speedy Shiners are best this week, also the "Moose Looks" wobbler, has been another great fast action lure. It looks a lot like a shiner but has a nice balance of scale texture and paint.
Fish have been caught deep, below 25 ft. While others have reported all their hookups in the top 20 ft., just depends where your are. Best Brown this week came in at 5.3 lbs. along with lots of Browns and Rainbows in the 2.2 to 3.5 lb. range.
Fish are feeding on smelt mostly. The smelt are large this year. We saw several over 3" inside the fish we checked. Ripping pin minnows or Rapalas have bagged some beauties along the east shore. Bank fishing the Branch has been super. Several limits reported drifting crawler bopper rigs, or roe down deep right next to the powerhouse. http://www.almanorfishingadventures.com
< Previous Report
Next Report >
< Previous Report
Next Report >
More Reports
NorCal Fishing News Reports
for Wednesday, November 6th, 2013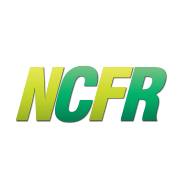 Clear Lake
:
Clear Lake Fish Report
Lake Berryessa
:
Lake Berryessa Fish Report
Lake Mendocino
:
Lake Mendocino Fish Report
Lake Sonoma
:
Lake Sonoma Fish Report
Lake Amador
:
Amador Lake Fish Report
Lake Camanche
:
Lake Camanche Fish Report
Collins Lake
:
Collins Lake Fish Report
McSwain Reservoir
:
McSwain Reservoir Fish Report
New Melones Reservoir
:
New Melones Reservoir Fish Report
Lake Oroville
:
Oroville Reservoir Fish Report
Pardee Reservoir
:
Pardee Reservoir Fish Report
Lewiston Lake
:
Lewiston Lake Fish Report
McCloud River
:
McCloud River Fish Report
Pit River
:
Pit River Fish Report
Sacramento River - Lower
:
Lower Sacramento River Fish Report
Sacramento River - Upper
:
Upper Sacramento River Fish Report
Shasta Lake
:
Shasta Lake Fish Report
Trinity River
:
Trinity River Fish Report
:
Saltwater Fish Report
:
Saltwater Fish Report
:
Saltwater Fish Report
:
Saltwater Fish Report
:
Saltwater Fish Report
:
Saltwater Fish Report
:
Saltwater Fish Report
:
North Coast Fish Report
Klamath River - Upper - CA
:
Klamath River Fish Report
Smith River
:
Smith River Fish Report
NorCal Fishing News Reports
for Wednesday, October 30th, 2013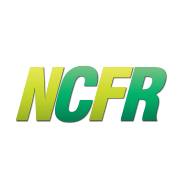 Lake Berryessa
:
Lake Berryessa Fish Report
Clear Lake
:
Clear Lake Fish Report
Lake Sonoma
:
Lake Sonoma Fish Report
Lake Amador
:
Amador Lake Fish Report
Lake Camanche
:
Lake Camanche Fish Report
Collins Lake
:
Collins Lake Fish Report
McSwain Reservoir
:
McSwain Reservoir Fish Report
New Melones Reservoir
:
New Melones Reservoir Fish Report
Lake Oroville
:
Oroville Reservoir Fish Report
Lewiston Lake
:
Lewiston Lake Fish Report
McCloud River
:
McCloud River Fish Report
Sacramento River - Lower
:
Lower Sacramento River Fish Report
Sacramento River - Upper
:
Upper Sacramento River Fish Report
Shasta Lake
:
Shasta Lake Fish Report
Trinity River
:
Trinity River Fish Report
:
Saltwater Fish Report
:
Saltwater Fish Report
:
Saltwater Fish Report
:
Saltwater Fish Report
:
Saltwater Fish Report
:
North Coast Fish Report
Lake Almanor
:
Almanor Lake Fish Report
Bullards Bar Reservoir
:
Bullards Bar Reservoir Fish Report
Davis Lake
:
Davis Lake Fish Report
Eagle Lake
:
Eagle Lake Fish Report
Sacramento River - Lower
:
Lower Sacramento River Fish Report
Bridgeport Reservoir
:
Bridgeport Reservoir Fish Report
Walker River - East Fork (CA)
:
East Walker River Fish Report
Walker River - West Section 2
:
West Walker River Fish Report
Virginia Lakes
:
Virginia Lakes Fish Report
Twin Lakes (Bridgeport)
:
Twin Lakes (Bridgeport) Fish Report
Kirman Lake
:
Kirman Lake Fish Report
June Lake
:
June Lake Fish Report
Gull Lake
:
Gull Lake Fish Report
Bear River Reservoir Lower
:
Lower Bear River Reservoir Fish Report
Donner Lake
:
Donner Lake Fish Report
Carson River - East Fork (CA)
:
East Carson River NV Fish Report
Carson River - West Fork (CA)
:
West Fork Carson River Fish Report
Truckee River
:
Truckee River Fish Report
Lake Tahoe
:
Lake Tahoe Fish Report
Pyramid Lake
:
Pyramid Lake, NV Fish Report
Indian Creek Reservoir
:
Indian Creek Reservoir Fish Report
Lopez Lake
:
Lopez Lake Fish Report
San Luis Reservoir
:
San Luis Reservoir Fish Report
Santa Margarita Lake
:
Santa Margarita Lake Fish Report
Feather River
:
Feather River Fish Report
Sacramento River - Lower
:
Lower Sacramento River Fish Report
Sacramento River - Lower
:
Lower Sacramento River Fish Report
San Joaquin River
:
San Joaquin River Fish Report
:
Delta Fish Report
:
Delta Fish Report
:
Delta Fish Report
:
Delta Fish Report
:
Delta Fish Report
:
Delta Fish Report
Tracy Lake
:
Tracy Lake Fish Report
Anderson Reservoir
:
Anderson Reservoir Fish Report
:
Bay Area Fish Report
Lake Berryessa
:
Lake Berryessa Fish Report
Calero Lake
:
Calero Lake Fish Report
Lake Chabot
:
Lake Chabot Fish Report
Chesbro Reservoir
:
Chesbro Reservoir Fish Report
Del Valle Lake
:
Del Valle Lake Fish Report
Lafayette Reservoir
:
Lafayette Reservoir Fish Report
Los Vaqueros Reservoir
:
Los Vaqueros Reservoir Fish Report
Bon Tempe Reservoir
:
Bon Tempe Reservoir Fish Report
:
:
Bay Area Fish Report
Quarry Lakes
:
Quarry Lake Fish Report
:
Bay Area Fish Report
:
Bay Area Fish Report
Shadow Cliffs Reservoir
:
Shadow Cliffs Reservoir Fish Report
Uvas Reservoir
:
Uvas Reservoir Fish Report
:
Bay Area Fish Report

NorCal.FishReports.com © 2019. All Rights Reserved.
Website Hosting and Design provided by TECK.net