Nor Cal Fish Report
Lake Almanor Fish Report for 12-15-2010
Almanor Lake Fish Report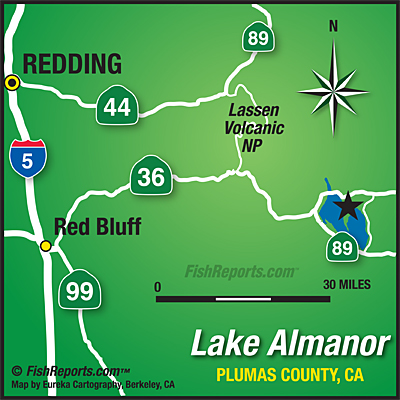 by Nor Cal Fish Reports
12-15-2010

Surface temps at 38 degrees. Another stronger series of weather systems are due in starting Friday, and the forecast is for it to remain stormy for the next 5 days.
With temps dropping below freezing at night, you can bet there will be additional snow covering most of Northern California. If the Almanor Basin gets pounded with snow, and I believe it will, snow removal crews will be busy with the roads, and ramps will be about the last to get plowed. Check the weather and pick your spots, because if you can get out, the fishing is better than good.
Rainbow trout, and lots of them, several over 3 pounds but most were about 2 pounds, nice clean fish with the darker cold water colors. Trolling the east shore from Canyon Dam to Lake Cove and back should get a limit or two. Silver prism Needlefish, and the Seps Pro Secret, in silver. got all the attention, downrigged to 10 and 5 ft. with Pro-Cure Trophy Trout scent, lightly brushed on.
If you cant get the boat out, Geritol Cove at Canyon Dam offers good bankfishing access, and the bite has been good also. Bait fishing, and jigs have been the best applications.
The north fork of the Feather River is high and fast. and the Hamilton Branch is high and a little muddy. Even Bailey Creek is running already.
Smaller boats not advised if wind is forecasted. Dress for cold conditions. Doug Neal (530) 258-6732 http://www.almanorfishingadventures.com
< Previous Report
Next Report >
< Previous Report
Next Report >
More Reports
NorCal Fishing News Reports
for Wednesday, December 15th, 2010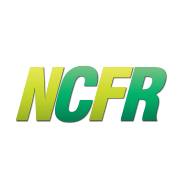 Clear Lake
:
Clear Lake Fish Report
Gualala River
:
Gualala River Fish Report
Lake Berryessa
:
Lake Berryessa Fish Report
Pillsbury Reservoir
:
Lake Pillsbury Fish Report
Russian River
:
Russian River Fish Report
Lake Amador
:
Amador Lake Fish Report
Lake Camanche
:
Lake Camanche Fish Report
Collins Lake
:
Collins Lake Fish Report
Lake McClure
:
Lake McClure Fish Report
McSwain Reservoir
:
McSwain Reservoir Fish Report
New Melones Reservoir
:
New Melones Reservoir Fish Report
Lake Oroville
:
Oroville Reservoir Fish Report
Lewiston Lake
:
Lewiston Lake Fish Report
Sacramento River - Lower
:
Lower Sacramento River Fish Report
Shasta Lake
:
Shasta Lake Fish Report
Trinity River
:
Trinity River Fish Report
:
Saltwater Fish Report
:
Saltwater Fish Report
:
Saltwater Fish Report
:
Saltwater Fish Report
:
Saltwater Fish Report
:
Saltwater Fish Report
:
Saltwater Fish Report
:
Saltwater Fish Report
:
Saltwater Fish Report
:
North Coast Fish Report
Eel River
:
Eel River Fish Report
:
North Coast Fish Report
Mad River
:
Mad River Fish Report
Smith River
:
Smith River Fish Report
Van Duzen River
:
Van Duzen River Fish Report
Baum Lake
:
Baum Lake Fish Report
Bullards Bar Reservoir
:
Bullards Bar Reservoir Fish Report
Sacramento River - Lower
:
Lower Sacramento River Fish Report
:
Delta Fish Report
:
Delta Fish Report
:
Delta Fish Report
:
Delta Fish Report
:
Delta Fish Report
:
Delta Fish Report
:
Delta Fish Report
Tracy Lake
:
Tracy Lake Fish Report
Pyramid Lake
:
Pyramid Lake, NV Fish Report
Lake San Antonio
:
San Antonio Lake Fish Report
San Luis Reservoir
:
San Luis Reservoir Fish Report
Santa Margarita Lake
:
Santa Margarita Lake Fish Report
Anderson Reservoir
:
Anderson Reservoir Fish Report
:
Bay Area Fish Report
:
Bay Area Fish Report
Lake Berryessa
:
Lake Berryessa Fish Report
Calero Lake
:
Calero Lake Fish Report
Lake Chabot
:
Lake Chabot Fish Report
Chesbro Reservoir
:
Chesbro Reservoir Fish Report
Contra Loma Reservoir
:
Contra Loma Reservoir Fish Report
Del Valle Lake
:
Del Valle Lake Fish Report
Lafayette Reservoir
:
Lafayette Reservoir Fish Report
Los Vaqueros Reservoir
:
Los Vaqueros Reservoir Fish Report
McAlpine Lake
:
McAlpine Lake Fish Report
Bon Tempe Reservoir
:
Bon Tempe Reservoir Fish Report
Quarry Lakes
:
Quarry Lake Fish Report
Shadow Cliffs Reservoir
:
Shadow Cliffs Reservoir Fish Report
Uvas Reservoir
:
Uvas Reservoir Fish Report
:
Bay Area Fish Report
:
Bay Area Fish Report
:
Bay Area Fish Report
:
Bay Area Fish Report
:
Bay Area Fish Report
NorCal Fishing News Reports
for Wednesday, December 8th, 2010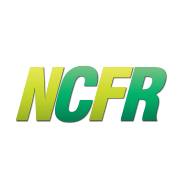 Clear Lake
:
Clear Lake Fish Report
Lake Berryessa
:
Lake Berryessa Fish Report
Pillsbury Reservoir
:
Lake Pillsbury Fish Report
Russian River
:
Russian River Fish Report
Lake Amador
:
Amador Lake Fish Report
Collins Lake
:
Collins Lake Fish Report
Don Pedro Reservoir
:
Don Pedro Reservoir Fish Report
Lake McClure
:
Lake McClure Fish Report
McSwain Reservoir
:
McSwain Reservoir Fish Report
New Melones Reservoir
:
New Melones Reservoir Fish Report
Lake Oroville
:
Oroville Reservoir Fish Report
Sacramento River - Upper
:
Upper Sacramento River Fish Report
Sacramento River - Lower
:
Lower Sacramento River Fish Report
Shasta Lake
:
Shasta Lake Fish Report
Trinity River
:
Trinity River Fish Report
:
Saltwater Fish Report
:
Saltwater Fish Report
:
Saltwater Fish Report
:
Saltwater Fish Report
:
Saltwater Fish Report
:
Saltwater Fish Report
:
Saltwater Fish Report
:
Saltwater Fish Report
:
Saltwater Fish Report
:
Saltwater Fish Report
:
Saltwater Fish Report
Lake Almanor
:
Almanor Lake Fish Report
Baum Lake
:
Baum Lake Fish Report
Bullards Bar Reservoir
:
Bullards Bar Reservoir Fish Report
Sacramento River - Lower
:
Lower Sacramento River Fish Report
:
North Coast Fish Report
Eel River
:
Eel River Fish Report
:
North Coast Fish Report
:
North Coast Fish Report
Mad River
:
Mad River Fish Report
Smith River
:
Smith River Fish Report
:
Delta Fish Report
:
Delta Fish Report
:
Delta Fish Report
:
Delta Fish Report
:
Delta Fish Report
:
Delta Fish Report
:
Delta Fish Report
:
Delta Fish Report
Pyramid Lake
:
Pyramid Lake, NV Fish Report
Millerton Lake
:
Millerton Lake Fish Report
Pine Flat Lake
:
Pine Flat Lake Fish Report
San Luis Reservoir
:
San Luis Reservoir Fish Report
Santa Margarita Lake
:
Santa Margarita Lake Fish Report
Anderson Reservoir
:
Anderson Reservoir Fish Report
Lake Berryessa
:
Lake Berryessa Fish Report
Calero Lake
:
Calero Lake Fish Report
Lake Chabot
:
Lake Chabot Fish Report
Chesbro Reservoir
:
Chesbro Reservoir Fish Report
Contra Loma Reservoir
:
Contra Loma Reservoir Fish Report
Del Valle Lake
:
Del Valle Lake Fish Report
Lafayette Reservoir
:
Lafayette Reservoir Fish Report
Los Vaqueros Reservoir
:
Los Vaqueros Reservoir Fish Report
McAlpine Lake
:
McAlpine Lake Fish Report
Quarry Lakes
:
Quarry Lake Fish Report
Shadow Cliffs Reservoir
:
Shadow Cliffs Reservoir Fish Report
Uvas Reservoir
:
Uvas Reservoir Fish Report
:
Bay Area Fish Report
:
Bay Area Fish Report
:
Bay Area Fish Report
:
Bay Area Fish Report
:
Bay Area Fish Report
:
Bay Area Fish Report
:
Bay Area Fish Report
:
Bay Area Fish Report

NorCal.FishReports.com © 2019. All Rights Reserved.
Website Hosting and Design provided by TECK.net