Nor Cal Fish Report
Lake Almanor Fish Report for 10-28-2010
Almanor Lake Fish Report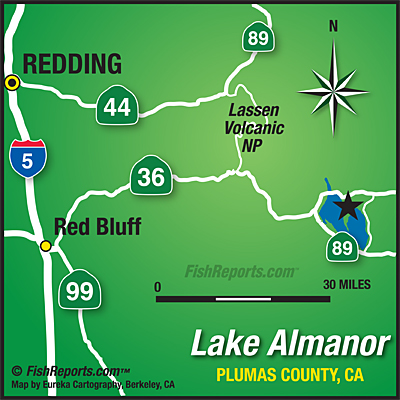 by Nor Cal Fish Reports
10-28-2010

Surface temps at 57.3 degrees. Cool brisk fall mornings have surface temps in full retreat, and combined with the shorter days, have given the signal to the Brown trout population that it's time to start this seasons spawn activity.
Almanor is quiet now and fishing pressure is light. Trees are showing their fall colors, and so are the big browns of Lake Almanor.
Generally some of the best fishing is right now as hens prepare the nest, the big males are close by. Usually loners, adult males, will move into these nesting areas in larger concentrations. Territories are marked off and enforced, intruders are often chased away as skirmishes are no doubt happening below. Larger rainbows also lurk nearby looking to feed off the spawn, as lots of egg material will be about. The smaller rainbows are in fear of the larger browns but with all the food about, it makes them just a little braver. This time of year we see more fish tipping to pickup eggs that are floating around the lake bottom. Salmon eggs with a small round split shot, thrown out, and worked slowly back to your boat or shoreline, is a good method. Also white jigs bouncing around a nest will probably get aggression hits from males or nesting hens.
Hens need to be released and the males are great for a photo or two, but should be released also, besides the meat is not that great to eat during the spawn anyway..And try not to use a net. It's the big Rainbows that are good to eat and they will be around all spawn activity looking for a free meal. Trolling has still been very effective, but the fish are running on the small side, mostly because there have been several big plants in the last 30 days, small fish are everywhere. Most have been in the 10" to 15" range, and a few over 2 lbs. from time to time. Silver Needlefish, Red and gold Speedy Shiners are popular and easy to find trolling lures. If you can get a red and gold "Seps Pro Secret", run it 8 to 10ft. down and 180' back at 2.4 mph and KaPow!
Trollers with downriggers... set your releases light, there's lots of juvenile salmon around and they will not have enough body girth to pop them, and you could drag one around and not know it..
As we move toward winter, water clarity will begin to deminish and attractors are helpful. Dodgers and crawlers have always been a good approach. Size 04 UV treated dodgers (Rasberry) down deeper have been a favorite of mine, while other anglers are also using flashers to help overcome the clarity issues.
Doug Neal (530) 258-6732 http://www.almanorfishingadventures.com
< Previous Report
Next Report >
< Previous Report
Next Report >
More Reports
NorCal Fishing News Reports
for Thursday, October 28th, 2010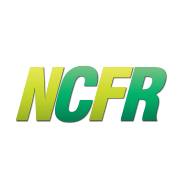 Lake Berryessa
:
Lake Berryessa Fish Report
Clear Lake
:
Clear Lake Fish Report
Russian River
:
Russian River Fish Report
Lake Camanche
:
Lake Camanche Fish Report
New Melones Reservoir
:
New Melones Reservoir Fish Report
Lake Oroville
:
Oroville Reservoir Fish Report
Pardee Reservoir
:
Pardee Reservoir Fish Report
McCloud River
:
McCloud River Fish Report
Sacramento River - Lower
:
Lower Sacramento River Fish Report
Sacramento River - Upper
:
Upper Sacramento River Fish Report
Shasta Lake
:
Shasta Lake Fish Report
Trinity River
:
Trinity River Fish Report
:
Saltwater Fish Report
:
Saltwater Fish Report
:
Saltwater Fish Report
:
Saltwater Fish Report
:
Saltwater Fish Report
:
Saltwater Fish Report
:
Saltwater Fish Report
:
Saltwater Fish Report
:
Saltwater Fish Report
:
Saltwater Fish Report
Smith River
:
Smith River Fish Report
Baum Lake
:
Baum Lake Fish Report
Jackson Meadows Reservoir
:
Jackson Meadow Reservoir Fish Report
Cassel Forebay
:
Cassel Forebay Fish Report
Eagle Lake
:
Eagle Lake Fish Report
Frenchman Reservoir
:
Frenchman Reservoir Fish Report
Sacramento River - Lower
:
Lower Sacramento River Fish Report
Bridgeport Reservoir
:
Bridgeport Reservoir Fish Report
Convict Lake
:
Convict Lake Fish Report
Crowley Lake
:
Crowley Lake Fish Report
Walker River - East Fork (CA)
:
East Walker River Fish Report
Walker River - West Section 2
:
West Walker River Fish Report
June Lake Loop
:
June Lake Loop Fish Report
Mammoth Lakes
:
Mammoth Lakes Fish Report
Electric Lake
:
Electric Lake Fish Report
:
Delta Fish Report
:
Delta Fish Report
:
Delta Fish Report
:
Delta Fish Report
:
Delta Fish Report
:
Delta Fish Report
:
Delta Fish Report
Tracy Lake
:
Tracy Lake Fish Report
Lake Alpine
:
Lake Alpine Fish Report
Boca Reservoir
:
Boca Reservoir Fish Report
Caples Lake
:
Caples Lake Fish Report
Donner Lake
:
Donner Lake Fish Report
Carson River - East Fork (CA)
:
East Carson River NV Fish Report
Carson River - West Fork (CA)
:
West Fork Carson River Fish Report
Heenan Lake
:
Heenan Lake Fish Report
Indian Creek Reservoir
:
Indian Creek Reservoir Fish Report
Jackson Meadows Reservoir
:
Jackson Meadow Reservoir Fish Report
Mosquito Lakes
:
Mosquito Lake Fish Report
Prosser Reservoir
:
Prosser Reservoir Fish Report
Pyramid Lake
:
Pyramid Lake, NV Fish Report
Spicer Meadow Reservoir
:
Spicer Meadow Reservoir Fish Report
Stampede Reservoir
:
Stampede Reservoir Fish Report
Truckee River
:
Truckee River Fish Report
Stanislaus River
:
Stanislaus River Fish Report
White Pines Lakes
:
White Pines Lakes Fish Report
Lake San Antonio
:
San Antonio Lake Fish Report
Pine Flat Lake
:
Pine Flat Lake Fish Report
San Luis Reservoir
:
San Luis Reservoir Fish Report
Anderson Reservoir
:
Anderson Reservoir Fish Report
Lake Berryessa
:
Lake Berryessa Fish Report
Calero Lake
:
Calero Lake Fish Report
Lake Chabot
:
Lake Chabot Fish Report
Chesbro Reservoir
:
Chesbro Reservoir Fish Report
Contra Loma Reservoir
:
Contra Loma Reservoir Fish Report
Coyote Lake
:
Coyote Lake Fish Report
Del Valle Lake
:
Del Valle Lake Fish Report
Lafayette Reservoir
:
Lafayette Reservoir Fish Report
Los Vaqueros Reservoir
:
Los Vaqueros Reservoir Fish Report
Bon Tempe Reservoir
:
Bon Tempe Reservoir Fish Report
Quarry Lakes
:
Quarry Lake Fish Report
San Pablo Reservoir
:
San Pablo Reservoir Fish Report
Shadow Cliffs Reservoir
:
Shadow Cliffs Reservoir Fish Report
Uvas Reservoir
:
Uvas Reservoir Fish Report
:
Bay Area Fish Report
:
Bay Area Fish Report
:
Bay Area Fish Report
:
Bay Area Fish Report
:
Bay Area Fish Report
:
Bay Area Fish Report
:
Bay Area Fish Report
:
Bay Area Fish Report
NorCal Fishing News Reports
for Wednesday, October 20th, 2010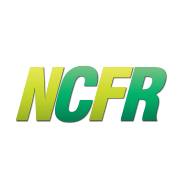 Lake Berryessa
:
Lake Berryessa Fish Report
Clear Lake
:
Clear Lake Fish Report
Lake Amador
:
Amador Lake Fish Report
Lake Camanche
:
Lake Camanche Fish Report
Collins Lake
:
Collins Lake Fish Report
Don Pedro Reservoir
:
Don Pedro Reservoir Fish Report
New Melones Reservoir
:
New Melones Reservoir Fish Report
Lake Oroville
:
Oroville Reservoir Fish Report
Pardee Reservoir
:
Pardee Reservoir Fish Report
Lewiston Lake
:
Lewiston Lake Fish Report
Pit River
:
Pit River Fish Report
Shasta Lake
:
Shasta Lake Fish Report
Siskiyou Lake
:
Lake Siskiyou Fish Report
Trinity River
:
Trinity River Fish Report
:
Saltwater Fish Report
:
Saltwater Fish Report
:
Saltwater Fish Report
:
Saltwater Fish Report
:
Saltwater Fish Report
:
Saltwater Fish Report
:
Saltwater Fish Report
:
Saltwater Fish Report
:
Saltwater Fish Report
:
Saltwater Fish Report
:
Saltwater Fish Report
:
Saltwater Fish Report
:
North Coast Fish Report
Klamath River - Upper - CA
:
Klamath River Fish Report
Smith River
:
Smith River Fish Report
Lake Almanor
:
Almanor Lake Fish Report
Baum Lake
:
Baum Lake Fish Report
Jackson Meadows Reservoir
:
Jackson Meadow Reservoir Fish Report
Bullards Bar Reservoir
:
Bullards Bar Reservoir Fish Report
Davis Lake
:
Davis Lake Fish Report
Eagle Lake
:
Eagle Lake Fish Report
Frenchman Reservoir
:
Frenchman Reservoir Fish Report
Sardine Lake Lower
:
Lower Sardine Lake Fish Report
Hat Creek
:
Hat Creek Fish Report
Pit River
:
Pit River Fish Report
Bridgeport Reservoir
:
Bridgeport Reservoir Fish Report
Convict Lake
:
Convict Lake Fish Report
Walker River - East Fork (CA)
:
East Walker River Fish Report
June Lake Loop
:
June Lake Loop Fish Report
Kirman Lake
:
Kirman Lake Fish Report
Electric Lake
:
Electric Lake Fish Report
Twin Lakes (Bridgeport)
:
Twin Lakes (Bridgeport) Fish Report
Virginia Lakes
:
Virginia Lakes Fish Report
Walker River - West Section 2
:
West Walker River Fish Report
:
Delta Fish Report
:
Delta Fish Report
:
Delta Fish Report
:
Delta Fish Report
:
Delta Fish Report
:
Delta Fish Report
:
Delta Fish Report
Tracy Lake
:
Tracy Lake Fish Report
Boca Reservoir
:
Boca Reservoir Fish Report
Caples Lake
:
Caples Lake Fish Report
Donner Lake
:
Donner Lake Fish Report
Carson River - East Fork (CA)
:
East Carson River NV Fish Report
Carson River - West Fork (CA)
:
West Fork Carson River Fish Report
Heenan Lake
:
Heenan Lake Fish Report
Jackson Meadows Reservoir
:
Jackson Meadow Reservoir Fish Report
Prosser Reservoir
:
Prosser Reservoir Fish Report
Pyramid Lake
:
Pyramid Lake, NV Fish Report
Stampede Reservoir
:
Stampede Reservoir Fish Report
Truckee River
:
Truckee River Fish Report
Lake San Antonio
:
San Antonio Lake Fish Report
Pine Flat Lake
:
Pine Flat Lake Fish Report
San Luis Reservoir
:
San Luis Reservoir Fish Report
Santa Margarita Lake
:
Santa Margarita Lake Fish Report
Anderson Reservoir
:
Anderson Reservoir Fish Report
Lake Berryessa
:
Lake Berryessa Fish Report
Calero Lake
:
Calero Lake Fish Report
Lake Chabot
:
Lake Chabot Fish Report
Chesbro Reservoir
:
Chesbro Reservoir Fish Report
Contra Loma Reservoir
:
Contra Loma Reservoir Fish Report
Coyote Lake
:
Coyote Lake Fish Report
Del Valle Lake
:
Del Valle Lake Fish Report
Lafayette Reservoir
:
Lafayette Reservoir Fish Report
Los Vaqueros Reservoir
:
Los Vaqueros Reservoir Fish Report
McAlpine Lake
:
McAlpine Lake Fish Report
Bon Tempe Reservoir
:
Bon Tempe Reservoir Fish Report
Quarry Lakes
:
Quarry Lake Fish Report
San Pablo Reservoir
:
San Pablo Reservoir Fish Report
Shadow Cliffs Reservoir
:
Shadow Cliffs Reservoir Fish Report
Uvas Reservoir
:
Uvas Reservoir Fish Report
:
Bay Area Fish Report
:
Bay Area Fish Report
:
Bay Area Fish Report
:
Bay Area Fish Report
:
Bay Area Fish Report
:
Bay Area Fish Report
:
Bay Area Fish Report
:
Bay Area Fish Report
:
Bay Area Fish Report
:
Bay Area Fish Report

NorCal.FishReports.com © 2019. All Rights Reserved.
Website Hosting and Design provided by TECK.net