Nor Cal Fish Report
Eagle Lake Fish Report for 9-22-2010
Eagle Lake Fish Report
Eagle Lake - Susanville, CA (Lassen County)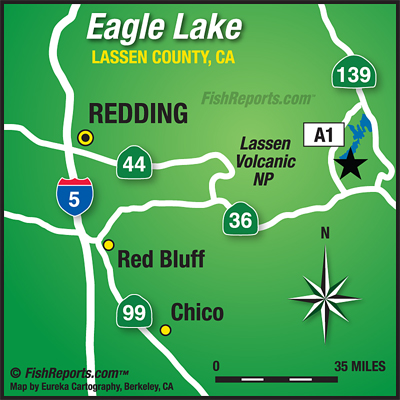 by Nor Cal Fish Reports
9-22-2010

This report is a repeat of last week's. The fishing is very good. We are limiting daily with nice fish averaging 2.5lbs. We are also averaging one to two 3lb fish per outing so the bigger fish are starting to show.
Find minnows and you will find fish. I've been concentrating my efforts on the west side of the lake between Pelican Pt. and Shrimp Island, where we are finding fish feeding on schools of minnows. I've gotten reports from successful anglers, also fishing minnow schools, on the east side of the lake off Camp Ronald McDonald, at the south end off Christie Campground, and inside Spalding Bay behind Pelican Pt. Fish are being caught in all of these areas. With the abundant minnow schools, the bite can and will last well into late morning and early afternoon.
We are fishing water 8-10 feet deep with pumpkin seed grubs, and Sep's amber, watermelon, or brown grubs. We are trolling them at 5 feet deep over an uneven bottom (structure). I usually fish this type of water even when minnows are not prevalent. With Tui Chub minnow schools holding in the same areas, this makes your chances of catching fish that much better. Surface water temperature is now 62. It will continue to decline and more and more Eagle Lake Trout will move northward into shallower water.

Bobber Fishing: Same story as trolling, find minnows and you'll catch fish bobber fishing. The Youth Camp is loaded with minnows and a good bet for bobber fishing. Anchor up in 12-18 feet of water and set your threaded night crawler at 7-10 feet deep.
Darrah Springs Hatchery is planning to stock the remainder of this year's bonus fish on September 21 at Rocky Point. (The first half of this year's bonus fish were planted in May of this year, prior to the opener.) As of this week the fish are averaging 2.8 pounds each. These bonus fish are made possible with the funds generated during the Project Eagle Lake Trout Fundraisers that take place in the community of Spalding each year on the Forth of July and Labor Day Weekends. tnoxon@gmail.com www.fishtraveler.com; (530) 825-3454
< Previous Report
Next Report >
< Previous Report
Next Report >
More Reports
NorCal Fishing News Reports
for Wednesday, September 22nd, 2010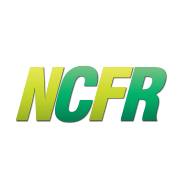 Clear Lake
:
Clear Lake Fish Report
Lake Amador
:
Amador Lake Fish Report
Lake Camanche
:
Lake Camanche Fish Report
Collins Lake
:
Collins Lake Fish Report
Don Pedro Reservoir
:
Don Pedro Reservoir Fish Report
New Melones Reservoir
:
New Melones Reservoir Fish Report
Lake Oroville
:
Oroville Reservoir Fish Report
Pardee Reservoir
:
Pardee Reservoir Fish Report
Lewiston Lake
:
Lewiston Lake Fish Report
McCloud River
:
McCloud River Fish Report
Sacramento River - Upper
:
Upper Sacramento River Fish Report
Sacramento River - Lower
:
Lower Sacramento River Fish Report
Shasta Lake
:
Shasta Lake Fish Report
Siskiyou Lake
:
Lake Siskiyou Fish Report
Trinity River
:
Trinity River Fish Report
Trinity Lake
:
Trinity Lake Fish Report
:
North Coast Fish Report
:
North Coast Fish Report
:
North Coast Fish Report
:
North Coast Fish Report
Klamath River - Upper - CA
:
Klamath River Fish Report
:
North Coast Fish Report
Smith River
:
Smith River Fish Report
:
North Coast Fish Report
:
Saltwater Fish Report
:
Saltwater Fish Report
:
Saltwater Fish Report
:
Saltwater Fish Report
:
Saltwater Fish Report
:
Saltwater Fish Report
:
Saltwater Fish Report
:
Saltwater Fish Report
:
Saltwater Fish Report
:
Saltwater Fish Report
:
Saltwater Fish Report
:
Saltwater Fish Report
:
Saltwater Fish Report
:
Saltwater Fish Report
:
Saltwater Fish Report
:
Saltwater Fish Report
:
Saltwater Fish Report
:
Delta Fish Report
:
Delta Fish Report
:
Delta Fish Report
:
Delta Fish Report
:
Delta Fish Report
:
Delta Fish Report
:
Delta Fish Report
Tracy Lake
:
Tracy Lake Fish Report
Lake Almanor
:
Almanor Lake Fish Report
Antelope Lake
:
Antelope Lake Fish Report
Baum Lake
:
Baum Lake Fish Report
Jackson Meadows Reservoir
:
Jackson Meadow Reservoir Fish Report
Cassel Forebay
:
Cassel Forebay Fish Report
Bucks Lake
:
Bucks Lake Fish Report
Bullards Bar Reservoir
:
Bullards Bar Reservoir Fish Report
Davis Lake
:
Davis Lake Fish Report
Feather River
:
Feather River Fish Report
Frenchman Reservoir
:
Frenchman Reservoir Fish Report
Sardine Lake Lower
:
Lower Sardine Lake Fish Report
Sacramento River - Lower
:
Lower Sacramento River Fish Report
Bridgeport Reservoir
:
Bridgeport Reservoir Fish Report
Crowley Lake
:
Crowley Lake Fish Report
Walker River - East Fork (CA)
:
East Walker River Fish Report
June Lake Loop
:
June Lake Loop Fish Report
Kirman Lake
:
Kirman Lake Fish Report
Mammoth Lakes
:
Mammoth Lakes Fish Report
Rock Creek Lake
:
Rock Creek Lake Fish Report
Topaz Lake
:
Topaz Lake Fish Report
Twin Lakes (Bridgeport)
:
Twin Lakes (Bridgeport) Fish Report
Virginia Lakes
:
Virginia Lakes Fish Report
Walker River - West Section 2
:
West Walker River Fish Report
Lake Alpine
:
Lake Alpine Fish Report
:
Central Sierra Fish Report
Blue Lake
:
Blue Lake Fish Report
Boca Reservoir
:
Boca Reservoir Fish Report
Caples Lake
:
Caples Lake Fish Report
Donner Lake
:
Donner Lake Fish Report
Heenan Lake
:
Heenan Lake Fish Report
Jackson Meadows Reservoir
:
Jackson Meadow Reservoir Fish Report
Prosser Reservoir
:
Prosser Reservoir Fish Report
Stampede Reservoir
:
Stampede Reservoir Fish Report
Lake Tahoe
:
Lake Tahoe Fish Report
Truckee River
:
Truckee River Fish Report
Carson River - West Fork (CA)
:
West Fork Carson River Fish Report
Bass Lake
:
Bass Lake Fish Report
Edison Lake
:
Edison Lake Fish Report
Lake San Antonio
:
San Antonio Lake Fish Report
Pine Flat Lake
:
Pine Flat Lake Fish Report
San Luis Reservoir
:
San Luis Reservoir Fish Report
Santa Margarita Lake
:
Santa Margarita Lake Fish Report
Shaver Lake
:
Shaver Lake Fish Report
Anderson Reservoir
:
Anderson Reservoir Fish Report
Calero Lake
:
Calero Lake Fish Report
Lake Chabot
:
Lake Chabot Fish Report
Chesbro Reservoir
:
Chesbro Reservoir Fish Report
Contra Loma Reservoir
:
Contra Loma Reservoir Fish Report
Coyote Lake
:
Coyote Lake Fish Report
Del Valle Lake
:
Del Valle Lake Fish Report
Lafayette Reservoir
:
Lafayette Reservoir Fish Report
Loch Lomond
:
Loch Lomond Fish Report
Los Vaqueros Reservoir
:
Los Vaqueros Reservoir Fish Report
McAlpine Lake
:
McAlpine Lake Fish Report
Quarry Lakes
:
Quarry Lake Fish Report
San Pablo Reservoir
:
San Pablo Reservoir Fish Report
Shadow Cliffs Reservoir
:
Shadow Cliffs Reservoir Fish Report
Uvas Reservoir
:
Uvas Reservoir Fish Report
NorCal Fishing News Reports
for Wednesday, September 15th, 2010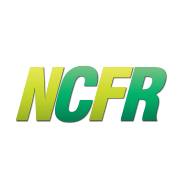 Clear Lake
:
Clear Lake Fish Report
Lake Berryessa
:
Lake Berryessa Fish Report
Lake Amador
:
Amador Lake Fish Report
Lake Camanche
:
Lake Camanche Fish Report
Collins Lake
:
Collins Lake Fish Report
Don Pedro Reservoir
:
Don Pedro Reservoir Fish Report
New Melones Reservoir
:
New Melones Reservoir Fish Report
Lake Oroville
:
Oroville Reservoir Fish Report
Pardee Reservoir
:
Pardee Reservoir Fish Report
McCloud River
:
McCloud River Fish Report
Sacramento River - Upper
:
Upper Sacramento River Fish Report
Sacramento River - Lower
:
Lower Sacramento River Fish Report
Shasta Lake
:
Shasta Lake Fish Report
Siskiyou Lake
:
Lake Siskiyou Fish Report
Trinity River
:
Trinity River Fish Report
Trinity Lake
:
Trinity Lake Fish Report
:
North Coast Fish Report
:
North Coast Fish Report
Klamath River - Upper - CA
:
Klamath River Fish Report
:
Saltwater Fish Report
:
Saltwater Fish Report
:
Saltwater Fish Report
:
Saltwater Fish Report
:
Saltwater Fish Report
:
Saltwater Fish Report
:
Saltwater Fish Report
:
Saltwater Fish Report
:
Saltwater Fish Report
:
Saltwater Fish Report
:
Saltwater Fish Report
:
Saltwater Fish Report
:
Saltwater Fish Report
Lake Almanor
:
Almanor Lake Fish Report
Antelope Lake
:
Antelope Lake Fish Report
Baum Lake
:
Baum Lake Fish Report
Jackson Meadows Reservoir
:
Jackson Meadow Reservoir Fish Report
Cassel Forebay
:
Cassel Forebay Fish Report
Hat Creek
:
Hat Creek Fish Report
Bucks Lake
:
Bucks Lake Fish Report
Bullards Bar Reservoir
:
Bullards Bar Reservoir Fish Report
Butte Lake
:
Butte Lake Fish Report
Davis Lake
:
Davis Lake Fish Report
Feather River
:
Feather River Fish Report
Frenchman Reservoir
:
Frenchman Reservoir Fish Report
Sardine Lake Lower
:
Lower Sardine Lake Fish Report
Sacramento River - Lower
:
Lower Sacramento River Fish Report
Bridgeport Reservoir
:
Bridgeport Reservoir Fish Report
Convict Lake
:
Convict Lake Fish Report
Crowley Lake
:
Crowley Lake Fish Report
Walker River - East Fork (CA)
:
East Walker River Fish Report
Walker River - West Section 2
:
West Walker River Fish Report
June Lake Loop
:
June Lake Loop Fish Report
Kirman Lake
:
Kirman Lake Fish Report
Mammoth Lakes
:
Mammoth Lakes Fish Report
Rock Creek Lake
:
Rock Creek Lake Fish Report
Twin Lakes (Bridgeport)
:
Twin Lakes (Bridgeport) Fish Report
Virginia Lakes
:
Virginia Lakes Fish Report
:
Delta Fish Report
:
Delta Fish Report
:
Delta Fish Report
:
Delta Fish Report
:
Delta Fish Report
:
Delta Fish Report
:
Delta Fish Report
Tracy Lake
:
Tracy Lake Fish Report
Lake Alpine
:
Lake Alpine Fish Report
Blue Lake
:
Blue Lake Fish Report
Red Lake
:
Red Lake Fish Report
Indian Creek Reservoir
:
Indian Creek Reservoir Fish Report
Heenan Lake
:
Heenan Lake Fish Report
Boca Reservoir
:
Boca Reservoir Fish Report
Caples Lake
:
Caples Lake Fish Report
Donner Lake
:
Donner Lake Fish Report
Jackson Meadows Reservoir
:
Jackson Meadow Reservoir Fish Report
Prosser Reservoir
:
Prosser Reservoir Fish Report
Stampede Reservoir
:
Stampede Reservoir Fish Report
Lake Tahoe
:
Lake Tahoe Fish Report
Truckee River
:
Truckee River Fish Report
Carson River - West Fork (CA)
:
West Fork Carson River Fish Report
Bass Lake
:
Bass Lake Fish Report
Lake San Antonio
:
San Antonio Lake Fish Report
Huntington Lake
:
Huntington Lake Fish Report
Pine Flat Lake
:
Pine Flat Lake Fish Report
San Luis Reservoir
:
San Luis Reservoir Fish Report
Santa Margarita Lake
:
Santa Margarita Lake Fish Report
Shaver Lake
:
Shaver Lake Fish Report
Anderson Reservoir
:
Anderson Reservoir Fish Report
Lake Berryessa
:
Lake Berryessa Fish Report
Calero Lake
:
Calero Lake Fish Report
Lake Chabot
:
Lake Chabot Fish Report
Chesbro Reservoir
:
Chesbro Reservoir Fish Report
Contra Loma Reservoir
:
Contra Loma Reservoir Fish Report
Coyote Lake
:
Coyote Lake Fish Report
Del Valle Lake
:
Del Valle Lake Fish Report
Lafayette Reservoir
:
Lafayette Reservoir Fish Report
Loch Lomond
:
Loch Lomond Fish Report
Los Vaqueros Reservoir
:
Los Vaqueros Reservoir Fish Report
McAlpine Lake
:
McAlpine Lake Fish Report
Quarry Lakes
:
Quarry Lake Fish Report
San Pablo Reservoir
:
San Pablo Reservoir Fish Report
Shadow Cliffs Reservoir
:
Shadow Cliffs Reservoir Fish Report
Uvas Reservoir
:
Uvas Reservoir Fish Report
:
Bay Area Fish Report
:
Bay Area Fish Report
:
Bay Area Fish Report
:
Bay Area Fish Report
:
Bay Area Fish Report
:
Bay Area Fish Report

NorCal.FishReports.com © 2019. All Rights Reserved.
Website Hosting and Design provided by TECK.net