Nor Cal Fish Report
Trinity River - Willow Creek Weir Fish Report for 6-12-2023
Catching Up to Date Once More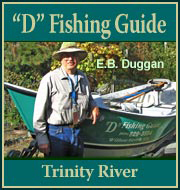 Sorry for my absence. After my surgery, my computer also experienced issues and had to be repaired. Dealing with computer problems can be challenging, especially when you rely on them. Now, let's catch up on the current status of the rivers and fishing.
The Trinity River, particularly in the Willow Creek area, has been running high and muddy. Recent thunderstorms likely caused heavy rain in the Hyampom area, leading to muddy flows in the South Fork of the Trinity due to slides upstream. However, the mud has subsided somewhat, and there's a slight hint of green color in the river at Big Rock. Nevertheless, the river is still flowing high in the Willow Creek area as of today (Monday, June 12). Currently, Willow Creek has a flow rate of 2,823 cubic feet per second (cfs) and a temperature of about 60 degrees. To put it in perspective, with 1 cfs equivalent to 7.48 gallons, a flow rate of 2,823 cfs means approximately 21,116 gallons of water are flowing by Camp Kimtu Beach at 60 degrees. These conditions pose hazards for swimming.
There is a Draft Preliminary Alteration to the 2021 Reinitiation of Consultation for the Trinity River division of the Central Valley Project (CVP) underway. It is my hope that they will consider adopting a management segment in the program that addresses river flow management during high snow events, even in "Wet Year" water releases, as outlined in the Record of Decision (ROD). Had this been considered for this year's water releases, more water could have been reserved for Trinity Lake.
The unfortunate news is that there will be no salmon fishing on the Trinity or Klamath Rivers this year. However, there is still trout and steelhead fishing available on both rivers, although no fish seem to be present currently. Due to the absence of salmon fishing, California legislators are attempting to declare a "Disaster Declaration" to release funds that would help alleviate the significant economic losses. Such a declaration would greatly benefit the local economy. I recall a similar incident in the past when we were able to secure $1.4 million to compensate for the losses to the local economy.
Summary of Trinity River Hatchery: The Trinity River Hatchery has closed for this year's fish returns. Hopefully, funding for the remodeling of the TRH will be approved, allowing for improved fish releases in the future.
Fishing: Due to the high water releases and snowmelt, fishing is currently unavailable on the Trinity River. I apologize for the inconvenience.
Mid-Klamath to Happy Camp: The Klamath River at Weitchpec is flowing at a rate of 11,300 cfs, which is a decrease of 18,034 cfs. Iron Gate Dam is releasing 1,448 cfs. With these water releases from Iron Gate, fishing in the Klamath is not feasible at the moment. Hopefully, we will see summer run steelhead in the rivers soon, and we'll be able to fish once again.
Lake Conditions: Unfortunately, the gauges' readings are currently unavailable. Whiskeytown is at an unknown percentage of capacity, experiencing a decrease of 1%, with unknown inflows and releasing 2,198 cfs into Spring Creek. Shasta Lake is at an unknown percentage of capacity, indicating an increase of 18% plus 31 feet, with inflows of 12,257 cfs and releasing 10,769 cfs into Keswick. Keswick is at 90% capacity, which is a decrease of 2%, with inflows of 13,201 cfs and releasing 13,074 cfs into the Sacramento River. Oroville Lake's capacity percentage is unavailable, but it has increased by 12% plus 28 feet, with inflows of 12,265 cfs and releases of 13,074 cfs into the Feather River. Folsom Lake's capacity percentage is unknown but has increased by 19% plus 19 feet, with inflows of 8,196 cfs and releases of 8,291 cfs into the American River. Trinity Lake's acre-feet measurement is unavailable, but it has increased by 100,218 acre-feet.
Trinity Lake: The lake is currently 123 feet below the overflow, indicating a decrease of 5 feet, and is at 38% of capacity, showing an increase of 1%. It has inflows of 4,561 cfs and releases of 1,947 cfs into Lewiston Lake, with an unknown cfs being diverted to Whiskeytown and then to the Keswick Power Plant, and releasing 13,074 cfs into the Sacramento River.
Trinity River flows and conditions: Unfortunately, the river gauges are temporarily out of order. However, the last available information includes Lewiston Dam being at an unknown percentage of capacity, having increased by 6%, and releasing 708 cfs into the Trinity River, with a water temperature of 53.9 degrees as of 10:30 pm on Monday, June 12, 2023. Limekiln Gulch is at a height of 5.32 feet with a flow rate of 788 cfs. Douglas City is at 7.20 feet with flows of 767 cfs and water temperatures of 57.2 degrees. Junction City is at 2.69 feet with a flow rate of 880 cfs. Helena is at 10.44 feet with flows of 1,269 cfs and water temperatures of 58.5 degrees. Burnt Ranch at Cedar Flat is at 5.71 feet with flows of 2,075 cfs. The South Fork of the Trinity near Hyampom is at 4.29 feet with a flow rate of 748 cfs. Willow Creek is estimated to have a flow rate of 2,823 cfs, with an air temperature of 81 degrees and water temperature of 60 degrees. Hoopa is at 14.46 feet with flows of 3,544 cfs and water temperature of 62.9 degrees. The estimated water flows at the mouth of the Trinity River where it meets the Klamath in Weitchpec are 11,300 cfs, representing a decrease of 18,034 cfs.
Klamath River flows and conditions: Iron Gate is releasing 1,448cfs. Seiad Valley is 4.42ft at 3,302cfs. Indian Creek is 4.81ft at 385cfs. Happy Camp is estimated at 3,687cfs, Somes Bar is estimated to be 5,337fs, and the Salmon River is 4.13ft at 2,219cfs. Orleans is 6.48ft at 7,756cfs, the Klamath River at Terwer Creek is 11.79ft at 12,323cfs and water temps are 64 degrees. Flows for the Smith River at Jedia Smith are 5.71ft with flows of 745cfs. and flows at Dr. Fine Bridge are 12.50ft at N/A.
Temperatures for the Valley last week had a high of 98 and a low of 49 degrees. Rain for the week was 0.00in with a water year total to date of 76.00 inches and 0.00in of snow for a total of 7.50in. in Willow Creek. The predicted temperatures for next week are for high of 87 and a low of 47. The weather next week is for sunshine with warming temperatures to the weekend the a few days of clouds and then more of that sunshine. 
< Previous Report
Next Report >

www.NorCalFishReports.com © 2023. All Rights Reserved.
Website Hosting and Design provided by TECK.net