Nor Cal Fish Report
Trinity River Fish Report for 3-12-2017
River conditions change with the weather
We have been having weather conditions change within the valley so fast that it is almost impossible to determine when one can come up to fish. It is almost day to day type of conditions except for the very upmost section of the river. Add to that rock and mud slides, and it's hard to predict if the roads are passable. To fish the upper sections of the Trinity, it is best to reach that area by I-5 to 299 and come into the valley. The Hwy 299 blockage at Big French Creek is suppose to be open to all traffic provided that the rain does not become too severe, but then the weather forecast says showers, then we have down pours, and snow, or sunshine. All I have been able to determine is that the Trinity River is fishable sometimes from Junction City up or Douglas City up, and then sometimes above Indian Creek.
It is easy for me to determine the lower sections as all I have to do is look out my back yard and see the river. Right this minute, the Lower Trinity is starting to turn steelhead green and if it doesn't start to RAIN again we should be able to fish the Hawkins Bar to South Fork area without much trouble. THAT is IF it doesn't start raining hard.
Hwy 96 to Hoopa, and beyond, has some slides that has delays of up to one hour. Right now the Klamath River is very high and the road has a bunch of small mud slides, but Caltrans does a pretty good job of clearing the Highway. I had to go up to Orleans yesterday and most of the road was in good shape as I only had two stops for slides.
I know many of you want to know what came out of the PFMC meeting, but I have no new information on the proposals, yet. Let's hope I can have something for you by next week.
Trinity River Hatchery Counts: TRH trapping is over for the time being.
Fishing: Like I said before, rain has been the biggest problem concerning fishing. There have been lots of native steelhead (winter run) going up the river and into the spawning streams, but most of the time it has been hard to locate them due to the high water. Hopefully, the next week or so will be showers like the weather is predicted and we can get into some good steelhead fishing. The upper river should be in fair to good shape for fishing.
Mid-Klamath: Iron Gate Dam is releasing 5,420cfs and Seiad Valley is reading at 9,980cfs, so the Klamath River is almost a no fishing condition. If the weather holds and BOR drops the Iron Gate releases, the Klamath should come into fishable condition above I-5. Be sure to check the road conditions before you come up. I-5, Redding, and Weaverville are in the Caltrans District 2, as Hwy 101 Eureka and Willow Creek are in Caltrans District 1.
Lake Conditions: Whiskeytown is 86% of capacity with inflows of 2,015cfs and releasing 1,717cfs into Clear Creek & Keswick. Shasta is 75 of capacity (an increase of 1% & plus 2ft) inflows of 15,619cfs and releasing 11,446cfs, Keswick is 89% of capacity with inflows of 12,128cfs and releasing 12,190fs; Lake Oroville is 84% of capacity (a increase of 4% & plus 8ft), inflow is 15,888cfs and releases are 1,908cfs; Lake Folsom is 41% of capacity (plus 2% & plus 14ft.) inflows are 9,083cfs and releases are 5,254cfs.
Trinity Lake: The Lake is 32ft below the overflow (decrease of 2ft)and 80% of capacity (1% increase) Inflow to Trinity Lake is 4,727cfs and Trinity Dam is releasing 3,166cfs to Lewiston Lake with 2,854cfs going to Whiskeytown Lake and on to the Keswick Power Plant with 12,190cfs being released to the Sacramento River.
Trinity River Flows and Conditions: Lewiston Dam releases are 312cfs, water temps of 45.6 and air is 43 degrees at 10:00am. today. Limekiln Gulch is 5ft at 510cfs, water temps are 44.6 degrees and air is 44. Douglas City is 6.8ft at 820cfs, water temps of 45 and air is 44. Junction City is 3.8ft at 1,200cfs. Helena is 11.3ft at 1,680cfs with water temps of 46.6. Cedar Flat is 7.7ft at 3,560cfs. Willow Creek is estimated at 7,630cfs air is 54and water at 48. Hoopa is 20.1ft at 14.6Kcfs with water temps of 49.3. Flows at the mouth of the Trinity River at Klamath River are estimated to be 38.7Kcfs.
Klamath: Iron Gate Dam releases are 5,420cfs. Seiad Valley is 8.4ft at 9,980cfs. Happy Camp is estimated at 10Kcfs. Somes Bar is estimated at 19.3Kcfs. Orleans is 12.7ft. at 24.1Kcfs. Klamath River at Terwer Creek is 20.3ft at 52.8Kcfs and water temperatures of 47.9 degrees. Flows at Smith River, Dr. Fine Bridge are 11.3ft at 8,720cfs.
Temperatures in the Valley last week were 69/34 degrees with 3.35 inches of rain with a season total of 67.25in of rain and 3.5in of snow. Temperatures in the valley next week are expected to be 74/42 degrees; with rain the first part of the week then scattered showers the rest of the week.
< Previous Report
Next Report >
< Previous Report
Next Report >
More Reports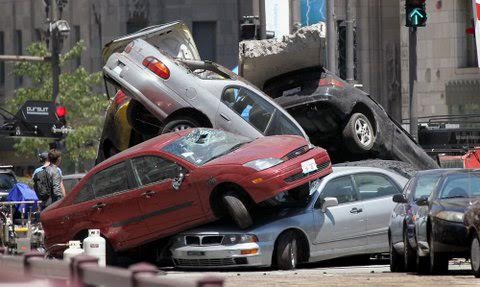 3-10-2017
Driving in rain, especially when streets are flooded, can cause conditions to be more hazardous. Still, many people risk their......
Read More
My Outdoor Buddy (Nor Cal) Reports
for Wednesday, March 8th, 2017

Sacramento River - Lower
:
Sacramento River open to boaters and anglers
Bass Pond
:
Remember Free Kids Fishing March 18

NorCal.FishReports.com © 2019. All Rights Reserved.
Website Hosting and Design provided by TECK.net