Nor Cal Fish Report
Trinity River Fish Report for 10-18-2016
Fishing slow on the Trinity last week
by E.B. Duggan
10-18-2016

Quotas for the Lower and Upper Trinity of adult Chinook salmon will be met by October 21st according to Sara Borok, environmental scientist for the Klamath / Trinity River Basin at CDFW. The Upper and Lower Trinity River shall reach the adult Chinook salmon quotas of 183 adults each side.
Without a real time creel count on the river, the calculated model figures the Trinity will meet its quota of adult fall Chinook salmon by Friday and only 2 jack salmon under 22in per day may be kept until Dec. 31 after that. With the low numbers of returning fish this year it appears that the Trinity River Hatchery could be hard pressed to receive the proper amount of adult fish for egg collection to run the hatchery. TRH is required to raise and release 300,000 Coho salmon, 448,000 steelhead and approximately 3 million Chinook salmon to try to maintain the sustainability of the Trinity River Fishery.
I have received many emails and phone calls about the Hoopa weir at Tish Tang, and yes, it is confirmed that the Hoopa Tribal fishery did in fact install a weir across the river at Tish Tang. I checked with National Marine Fishery Service (NMFS) and they told me that NMFS has sent a letter to the Hoopa Tribe stating that the Hoopa Tribe "does not have permission to install a fish counting weir on the Lower Trinity River". The basis for this letter is that NOAA only will permit one fish weir on the Lower Trinity and that permit is in use for the Willow Creek weir and therefore the Hoopa weir is illegal. From the information
I was able to garner, the Hoopa weir was suppose to operate for two weeks only and is to operate the same hours as the Willow Creek weir. The idea is to take hatchery marked Coho salmon to reduce the impact of hatchery Coho on native Coho salmon. The problem I see is that this year is a very bad year to be removing Coho salmon from the river when the return numbers are so low at the hatchery. Coho salmon are listed as threatened on the ESA listing and are not to be harvested. Several years ago, when the hatchery Coho returns were very high, I and guides from the Trinity River Guides Association tried for over five years to be allowed to have an in river harvest of hatchery Coho salmon to provide an added fishing opportunity for fisherman, but both CDFW and NOAA denied those requests because Coho salmon were listed. I do believe that Native Americans have a right to subsistence fishing by Treaty and heritage but they should have to obey the laws just as we are required to do and NOT deplete the fishery!
I had computer problems this week therefore I was unable to download the TRH, J.C. weir and the W.C. weir counts.
Fishing: Last week fishing was slow on the Trinity. Todd LeBouf, of Tiger T guide service, fished the canyon section of the river from D.C. to Evans Bar and was only able to scare up a few hookups. A friend of his fished the Steelbridge to D.C. section and was able to get several good hookups on flies, and at the same time, another fishing buddy fished Junction City to Pigeon Point and was able to do fair on plugs. No fish of substantial size were landed, but fish were landed. Del Loma section fishing was slow and many of the campers at Del Loma left for home. Down in the Willow Creek section fishing was very slow because of the weirs. This storm should pass during the first part of the week and cloudy sunshine into next week. With that in mind we should see a good amount of fresh fish (tail end charlies) arrive just as the adult take of salmon ends. Remember that the steelhead also follow the salmon up the river and that should make for great steelhead fishing.
Mid-Klamath: Iron Gate is back to winter water releases and fishing below Happy Camp has improved. Up River from I-5 to Iron Gate fishing was slow but those who worked at it were able to get hookups. Due to the Mid –Klamath being closed to the take of adult salmon, fishing pressure was very weak.
Lake Conditions: Whiskeytown is 93% of capacity with inflows of 325cfs and releasing 605cfs into Clear Creek; Shasta is 60% of capacity (decrease of 0% &0ft), inflows are 5,763cfs and releases are 5,544cfs; Keswick is 84% of capacity with inflows are 6,038cfs and releasing 6,519cfs; Lake Orville is 44% of capacity (a decrease of 1% & minus 3ft), inflow is 3,234cfs and releases are 3,990cfs; Lake Folsom is 30% of capacity (minus 0% & minus 1ft), inflows are 1,369cfs and releases are 1,116cfs.
Trinity Lake: The Lake is 117ft (an increase of 1ft.) below the overflow and 39% of capacity (1% decrease) Inflow to Trinity Lake is 171cfs and the Trinity Dam is releasing 456cfs to Lewiston Lake with 19cfs going to Whiskeytown Lake and on to the Keswick Power Plant with 6,756cfs being released to the Sacramento River.
Trinity River Flows and Conditions: Lewiston Dam releases are 446fs, water temps are 51.3 and air is 51 degrees at 10:00a.m. today. Limekiln Gulch is 2.2ft at 492cfs, water temps are 51.3 and air is 51. Douglas City is 6.4ft at 534cfs, water temps of 51.3 and air is 50.Junction City is 2ft at 641cfs. Helena is 10ft at 997cfs with water temps of 51.5. Cedar Flat is 5.2ft at 1,750. Willow Creek is estimated at 2,2282cfs, air is 54 and water at 54. Hoopa is 15.1ft at 3,810 cfs with water temps of 56.5 Flows at the mouth of the Trinity at the Klamath are estimated to be 13.5Kcfs.
Mid-Klamath: Iron Gate Dam releases are 972cfs. Seiad Valley is 3.4ft at 2,190cfs. Happy Camp is estimated at 4,438cfs. Somes Bar is estimated at 7,460cfs. Orleans is 8ft. at 9,460cfs. Klamath River at Terwer Creek is 12.8ft at 15.1Kcfs and water temperatures of 56.6 degrees. Flows at Smith River, Dr. Fine Bridge are 14.8ft at 19.5Kcfs.
Temperatures in the Valley last week were 78/46 degrees with 3.5 inches of rain with a season total of 4.6in of rain and 0.00in. of snow. Temperatures in the valley next week are expected to be 75/41 degrees, with rain the first part of the week and clouds and sunshine the rest of the week.
Good Fish'en and Good Luck but remember; "Keep your tip up with a tight line lands fish."
< Previous Report
Next Report >
< Previous Report
Next Report >
More Reports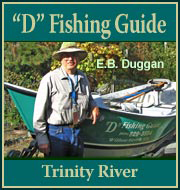 10-10-2016
Quotas for the Lower and Upper Klamath River for Chinook salmon has been met according to CDFW. The Lower Klamath......
Read More
"D" Fishing Guide Reports
for Monday, September 19th, 2016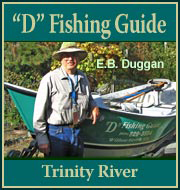 Klamath River - Lower
:
Mid-Klamath Update
Trinity Lake
:
Trinity Lake Update
Trinity River
:
Trinity River Flows and Conditions

NorCal.FishReports.com © 2019. All Rights Reserved.
Website Hosting and Design provided by TECK.net