Nor Cal Fish Report
Eagle Lake Fish Report for 12-17-2015
Eagle Lake Update
Eagle Lake - Susanville, CA (Lassen County)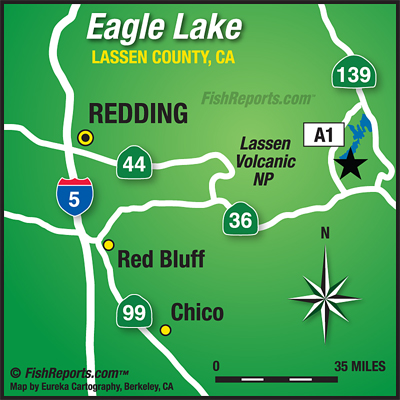 by Valerie Aubrey
12-17-2015
Website

Lake conditions; Temp low 40F's (40-42F). Dirt roads into Wildcat Pt are muddy under the light layer of fresh snow. The shore fishing has been great, but it has also been a matter of timing. I have been float tubing and fly fishing and with the ability to pursue fish, my bite has been pretty good all day long. For catching on the shallow rock piles and gravel bars, yes, it has also been a matter of timing. On Wednesday, the shoreline from Christie to Wildcat was pretty dirty water. Not only a few weeds, but a lot of fragmented algae particles....perfect for slimming up your lines. I had to get 150-200ft out before the surface cleaned up enough to fish...but I did have to paddle to known rock piles a little further away than I wanted to go that afternoon . Hopefully we sill see a little wind pick up and blow the weeds and algae off in the next few days.

Winds can hamper some shore fishing locations so always check out the wind direction before committing to a spot. In general, we always have a good early bite, but we haven't had to get out early in order to release double digits easily. On Wednesday I launched my tube at Christie & worked my way halfway to Wildcat Pt. Released 4 out of 6 on the line between 1 and 3PM. Not one under 20". All found in 1 to 6 ft of water casting black/red leech pattern flies and a rusty gold pattern. Gold/amber wooly buggers are working well too as is purple (I don't use much purple but during a little lull in the bite, the purple turned everything back on again...go figure). Brown leech patterns and minnow patterns are still holding their own but are more location specific right now....but a little splash of red on anything has been working best for us. Not too many trollers out there now, but there have been a few. Mostly all toplining & doing well. Lures with gold and red and others working have copper.

As a note for fly fishermen/women walking the shoreline and wading: First, fish the water before you walk in it. I pulled two nice trout out of a shallow gravel bar 5 ft from shore 5 minutes after a guy walked right by them getting to a better point. Second: With cold temps and snow on the ground, felt soles on your boots or waders are not ideal to walk in. Once the felt is wet, every step in the snow begins to build up layer upon layer of ice which can easily end up over 3 inches and can cause twisted ankles and falling down. Felt soles are great in the water but not in snowy conditions. I have found that ice cleats on my lug sole boots work great for sticking to slippery rocks as well as walking to the water.

It isn't unusual to find fish deeper in the water column any time of the year on the east side, especially once the bite slows down on top. However, I always run a topline & it really, never fails when the fish are active. We are still finding great topline action 4-8ft deep using brown, cinnamon leech and tui chub minnow trolling flies but only able to launch small boats with a lot of effort. Brown and pumpkinseed grubs are doing well too. Best lures working have been brass or copper with a splash of red.

Most of us are shore fishing or float tubing/kayaking now. Pikes Pt has been fishing well, Christie Point (south and west winds generally behind you on the point) and Bay towards Wildcat Pt was holding nice trout but the algae & weeds moved in on 12-16, a good wind should clean it up. We still have a few straggleres left off the Youth Camp/Biology Station too. Muddy road now. The warm temps and winds broke up and melted a lot of the ice that was encroaching. The east side shoreline action has improved this week.

Fly Fishing: One day we might hook up & release 15 to 20, the next day lucky to release 4 to 6. For fly fishing this week, black/red bloody leeches, small brown leech patterns and minnow patterns have bought us the most strikes and amber/gold has been doing okay. Nothing real fancy. I use a brown wiggle dubbin nymph that is my best fly over the rocky points and shallow gravel bars that has bought me the most fish. The black/red wiggle dubbing leech killed em this week when the fish weren't looking at the normal stuff.

From shore, jigs really start picking up. Wild turkey, brown, olive, black and often yellow is the ticket.

For bait: Good old nightcrawlers, powerbait (beige garlic, orange, green, yellow and sometimes red or pink). Rainbow can cover several color options. Jigs have been a great late season thing to use. We often just toss one out (water filled bobber) and let the wind and wave action do the work...just depends on how lazy one feels at the time. Yes, we catch a few fish on jigs without working them but just as flies, don't wait to set the hook or that fish is gone. Note that it's the time of year that you have to keep your nightcrawlers from freezing as well as keeping your dough baits pliable.

When skies are overcast, brighten up and/or darken down for lures and trolling flies. Heavy winds can bring them up or drop them down even deeper if the waves hit 3 to 5 ft in height (of which this is not the time of year to be out there if it's that rough). The clarity of the water is still not prime (even though the clarity is as good as it's going to get right now) but after two calm flat days, I could see bottom clearly at 6 ft. Contrast is the key and a scent trail won't hurt. We often find yellow a good color when the standards don't work but on a clear day, that doesn't always pay off.

Shore fishing has been very good for bait fishing. Location will now depend on any winds that blow. The trout are still pounding tui chub minnows but zoo-plankton has also kicked into gear over the depths. The Jetty is difficult to access the water is very shallow there now. Christie Day Use (the rocky gravel bar and point to the left of the parking lot) has been fishing pretty well. Just like any shore fishing though, it's often just a matter of waiting out the fish. The water depth off the point at Christie is 19-21ft deep a short cast from shore. Pikes Pt has been fishing OK. There is one section of Pikes Pt that a person can easily cast to 30ft of water. That's the rocky points defining Pikes Cove from Pikes Pt. The gravel bar that begins north of Camp Ronald McDonald and runs to Eagle's Nest has an awesome ledge that is barely 15 to 20ft from shore now in most locations…a hefty cast will land over 40ft of water pretty easily. Fishing has picked up on the accessible shoreline of the east side. The ledge is loaded with hydrilla and steep rocky structure where the trout like to hold until wave action drives them out. It's called The Springs area for a reason and in some places the current is pretty strong. Wind from the south, west and both can make the east side unfishable when waves begin breaking in. One can drive into Eagle's Nest and access the shoreline there, however 4x4's should have chains if attempting it. I don't recommend driving in right now. There is a user made road that people have driven down to the lake however I don't recommend driving to the lake shore outside of Eagle's Nest immediate area. It is illegal regardless of no signage and low lake elevation. If you do drive to the water anywhere on the lake outside the legal launch ramp, be prepared that you may receive a citation & it could arrive in the USPS mail.
It is nice to have a heat source this time of year. A propane heater can work wonders until the winds come up. Camp fires make it quite comfortable but you have to pack in your own wood. Chemical hand-warmers are a plus but have become the #1 litter we pick up along the shoreline next to water bottles and fishing line. The larger pouch warmers produce more heat & last longer, plus you can "save" them for the next day by putting them in a ziplock baggie & pressing the air out. If you are wading, be sure to have a dry set of clothing packed in the car/truck. It only takes one slip on a rock to end up in the water. Been there, done that….had dry clothes or would have gotten hypothermia. The elements this time of year can easily kill you if you aren't prepared. and with high temps in the 20's, getting wet isn't the best thing you can do. If nothing else, make your trip miserable rather than fun and memorable. But it is a great time of year for fishing without having to launch a boat. There is no handicap accessibility to shore fishing any more. They were lacking to begin with but with low water levels, nothing has been done to fix it. Count on a long walk to the water in the areas where the fishing is best.
< Previous Report
Next Report >
< Previous Report
Next Report >
More Reports
12-10-2015
Lake conditions; Temp low 40F's (42-44F). Dirt roads in muddy now that we have had a couple days of warmer ambient temperatures. The shore fishing has been great. Winds can hamper some locations but always check out the wind direction before committing to a spot. In general, we always have a good early bite, but we haven't had to get out early in order to release double digits easily. On Tuesday I launched my tube......
Read More
12-3-2015
Lake conditions; Temp mid 40's. Dirt roads in muddy now that we have had a couple days of warmer ambient temperatures. Big wind today. No way to shore fish, float tube or be in a boat when gusts are topping 38MPH!! Looks like we have a storm blowing in that might bring some snow or a mix of rain with it. We will take every drop we can get. ......
Read More

NorCal.FishReports.com © 2020. All Rights Reserved.
Website Hosting and Design provided by TECK.net