Nor Cal Fish Report
Trinity River Fish Report for 7-11-2017
Delta Tunnels would transfer how much water?
I hope everyone had a great and safe fourth of July holiday.
It appears that the Federal EPA and the US Fish and Wildlife have OK'ed Governor Brown's two Tunnels to by-pass the Delta. This is only one step of many for approval for construction but with the many Water Districts joining together to form a Joint Powers for financing the Tunnels, there is the possibility "IT" could happen. What amazes me is that nobody has taken the time to figure out just how much water those two 40ft tunnels will siphon out of the Sacramento River before it reaches the Delta. My estimation is 530cfs would equal 31,800 gallons per minute, equals 1,908000 gallons per hour which would equal about 5.8 Acre Feet per hour. One Acre Foot will supply a family of four for one year but how many Acre Feet will be removed from the Delta using those same figures. It really bewilders me as to how the many smart people in the government have NOT figured out how much water will be transferred out of the Sacramento river before it reaches the Delta and once that much water is removed, how much sea water will encroach into the San Joaquin and Sacramento Deltas. Like the farmers along I-5 post "crops won't grow in salt water!" On top of all this, the Governor states the pumps should stay in just in case of an emergency. Drought has NO calendar as we have just experienced -and four counties are still experiencing. The Tunnels will NOT solve the water shortage in Southern California, or for the farmers, only more water storage can do that.
Here the weather has turned HOT! Here in the valley it has been running into the 100s. The hot weather has also caused much of the snow pack to start melting and causing many of the streams to flow much higher. This in turn has caused many of the stream fisher's trouble in trying to fish them. The good part is that many reservoirs are filling up and there is going to be more water for the farmers and the fish.
As a reminder for those wishing to fish the Mid-Klamath, there will be some area closures; the area at the mouth of Clear Creek on the Klamath will be closed from July 23rd to the 28th for the Spring Salmon Cermony, so please be respectful and try to fish elsewhere for that time.
Fishing: Lewiston Dam releases are 1,450cfs and many of the in flowing streams are adding water flows to that very fast. The Trinity is still somewhat high but it is in really good fishing condition. For those who are willing to hike down to the river at Grays Falls or Burnt Ranch Falls, you can come out with limits of spring run salmon during the early morning (2 per day, 2 in possession) but trying to hike back out in the afternoon can be a task. Most of the locals are going down in the afternoon so the hike back up is cooler. One thing to remember is to take extra water and take short rests on the way back out to prevent heat stroke! Most of the salmon coming out of the Falls is in the mid range of 5 to 8lbs, but occasionally a nice 10 or 12 pounder will show up. The good thing about the high water flows is that it has provided the passage of sturgeon and several have been seen as well as hooked at Grays Falls. Remember that on the Trinity below the mouth of the South Fork you can only keep hatchery marked trout and steelhead or German Brown Trout, you must release ALL salmon.
Mid-Klamath: Iron Gate Dam is releasing 1,140cfs so the upper part of the Klamath is fishable but a little high for trout and steelhead fishing right now but should get better as the flows decrease. Right now all the reports I have seen are saying good river conditions and good fishing. The Mid-Klamath is still running a little high but fishable for those willing to put in the effort. At Wetchpec the river looks great but a little high for really good fishing. Water quality is good but it appears that the water temperatures are starting to raise some. If this kind of water quality could kept up and the temps not get too high for the rest of the summer, our salmon runs on the Klamath-Trinity could survive and possibly return to some historic returns of the past.
Lake Conditions: Whiskeytown is 98% of capacity with inflows of 1,571cfs and releasing 1,463cfs into Clear Creek & on to Keswick. Shasta is 91 of capacity (a decrease of 2% & minus 3ft) with inflows of 4,586cfs and releasing 8,315cfs, Keswick is 92% of capacity with inflows of 9,938cfs and releasing 10,160fs; Oroville Lake is 66% of capacity (a decrease of 0% & minus 1ft), inflow is 3,509fs and releases are 4,194cfs; Folsom Lake is 98% of capacity (plus 1% & plus 0ft.) inflows are 3,737cfs and releases are 3,925cfs.
Trinity Lake: The Lake is 21ft below the overflow (increase of 4ft) and 87% of capacity (3% decrease) Inflow to Trinity Lake is 430cfs and Trinity Dam is releasing 2,694cfs to Lewiston Lake with 1,247cfs going to Whiskeytown Lake and on to the Keswick Power Plant with 10,160cfs being released to the Sacramento River.
Trinity River Flows and Conditions: Lewiston Dam releases are 1,460cfs, water temps of 48.1 air is 74 degrees at 10:00am. Monday. Limekiln Gulch is 6.1ft at 1,486cfs, water temps are 48.7egrees and air is 962. Douglas City is 7.7ft at 1,570cfs, water temps of 49.4, air is 77. Junction City is 3.6ft at 1,540cfs. Helena is 11.4ft at 1,739cfs with water temps of 54.4. Cedar Flat is 5.4ft at 1,871cfs. Willow Creek is estimated at 1,891cfs air is 70 and water at 60. Hoopa is 13.8ft at 2419cfs with water temps of 64.9. Flows at the mouth of the Trinity River at Klamath River are estimated to be 5,817 cfs.
Klamath: Iron Gate Dam releases are 1,140cfs. Seiad Valley is 3.1ft at 1,920cfs. Happy Camp is estimated at 2,054cfs. Somes Bar is estimated at 2,534cfs. Orleans is 4.2ft. at 3,398cfs. Klamath River at Terwer Creek is 10.1ft at 6,793cfs, water temperatures of 67.4 degrees. Flows at Smith River, Dr. Fine Bridge are 5.5ft at 634cfs.
Temperatures in the Valley last week were 100/53 degrees with 0.00 inches of rain with a season total of 84.45in of rain and 3.5in of snow. Temperatures in the valley next week are expected to be 90/54 degrees; with sunshine for the next couple of weeks, the temperatures are suppose to start to cool down from the three digit area to the upper 80s and lower 90s, this could help water conditions for the Klamath.
< Previous Report
Next Report >
< Previous Report
Next Report >
More Reports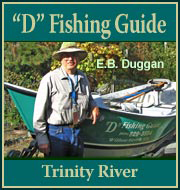 6-26-2017
FISH LAKE The Fish Lake "Kids Fish Derby" was held Saturday June 24th up at Fish Lake above Orleans. As the Derby......
Read More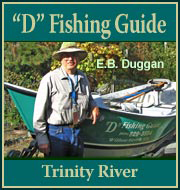 6-12-2017
The Sky Crest Lake Fire Safe Kids Fish Derby this last Saturday, June 10th had a great turnout! About 150......
Read More

NorCal.FishReports.com © 2020. All Rights Reserved.
Website Hosting and Design provided by TECK.net