Nor Cal Fish Report
Fish Report for 5-16-2017
How to Repair Aluminum Boat Hulls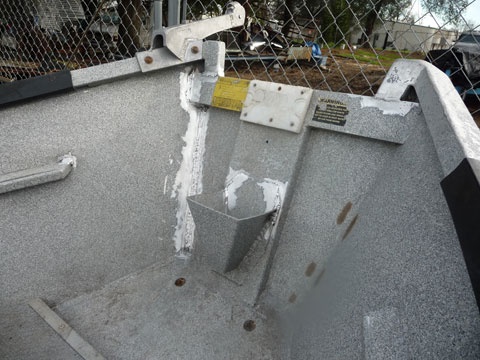 Photos courtesy of Don Stec.
Today there is a lot of talk in the trade magazines about aluminum and how difficult it is to repair. It is different from steel, but it can be repaired with the proper training and equipment. What is much more uncommon is straightening aluminum sheet panels. Most boat owners when getting damage estimates have told me it was recommended to replace the entire panel because straightening aluminum sheet metal is not possible.
The photos show damage before and after a repair on a boat transom. The transom was ripped apart and distorted after the anchor got stuck on the bottom while the boat was in a fast river current.
This article is not written to teach someone to work with aluminum. This could not be done without hands-on experience. It is intended only to explain why aluminum is more difficult to work with and why most metal workers prefer to replace rather than repair. Replacing damaged panels are often more than a boat is worth. But if the panel could be straightened and welded together the boat could be saved.
Straightening aluminum can be difficult when it is bent because the molecules become distorted and the distorted area becomes hardened. Hitting the aluminum with a metal hammer to straighten it will cause the molecules to distort further. This is known as work hardening. To straighten, the hardened area must be heat treated to relax the molecules in the metal. If the aluminum becomes overly work hardened, it will become brittle and crack easily. At this point the panel is not savable and will have to be partially or completely replaced.
Repairs are made by bending the aluminum back into place while using the proper heat to remove work hardening. This is known as relaxing the molecules. Hydraulic jack pressure is used to return the panel back to its original shape. A soft headed hammer and dollies are used to assist. It is difficult to find a shop that has a hydraulic machine that can be positioned in many angles to push or pull the aluminum in the proper direction. Once returned to its original location it can be welded together. Of course a panel may be damaged beyond repair. In this case we often are able to replace a portion of the panel.
A cautionary note: Aluminum stretches easily. Improper hammer blows will distort it easily and render it irreparable. Aluminum does not change color when it is heated. It will give no warning when it is overheated and just fall away leaving a large hole.
Coachmaster has been working with aluminum since the late 1960's and is certified in aluminum welding and aluminum brazing. Our frame machine is capable of literally hundreds of angles to restore aluminum to its original shape. We are primarily an auto body shop but also an insurance approved repair station for boat repair and RV's. We can be reached at 530-243-1310 or at the business at 6851 Eastside Road, Redding, CA.
Coachmaster Collision repair* -- founded in 1969 is the best equipped body and paint shop in the North valley. Specializing in "Total Body Alignment." Contact Alan Gordon for an estimate on your vehicle. Call 530-243-1310 or visit the business at 6851 Eastside Road, in Redding California. *Click here if you are using a smart phone or other mobile device.
NorCal.FishReports.com © 2018. All Rights Reserved.
Website Hosting and Design provided by TECK.net