Nor Cal Fish Report
New Sea Angler Fish Report for 11-17-2013
Fish Reports for the Friday & Saturday trips on the New Sea Angler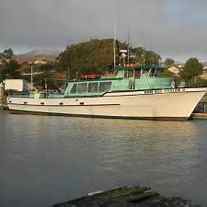 by Rick Powers
11-17-2013
(707) 875-3344
Website

Rick Powers called in with these updates for the New Sea Angler.

Friday Trip Results: "40 Anglers had 400 Rockfish, 4 Lingcod to 10 lbs. along with full limits of large Dungeness Crabs, that's 240 Crabs.

Saturday Trip Results: "47 Anglers took full limits of Rockfish, that's 470 Rockfish. We also had full limits of Dungeness Crabs, 282 Dungeness. We had wind the last few days, we expect better weather tomorrow. We have plenty of room on Monday & Tuesday right on thru next week. Rockcod fishing remains excellent. We are hoping to get back down to where we were catching the Lingcod prior to this wind. And the Crabbing is absolutely fantastic, with large crabs being the rule. If you are interested in information or want to make a reservation call 707-875-3495."
< Previous Report
Next Report >

Warning: PDO::query(): SQLSTATE[HY000]: General error: mode must be an integer in /mnt/stor2-wc1-dfw1/402279/1023191/www.norcalfishreports.com/web/content/includes/classes/Boat.class.php on line 28

Fatal error: Uncaught Error: Call to a member function fetch() on boolean in /mnt/stor2-wc1-dfw1/402279/1023191/www.norcalfishreports.com/web/content/includes/classes/Boat.class.php:29 Stack trace: #0 /mnt/stor2-wc1-dfw1/402279/1023191/www.norcalfishreports.com/web/content/fish_reports/detailed_report.php(308): Boat->__construct('184') #1 {main} thrown in /mnt/stor2-wc1-dfw1/402279/1023191/www.norcalfishreports.com/web/content/includes/classes/Boat.class.php on line 29