Nor Cal Fish Report
Fish Report for 7-12-2018
Klamathon Catastrophic Wildfire - Day 7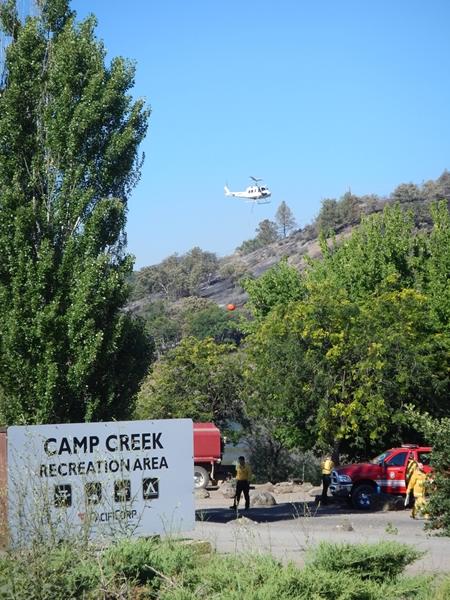 Firefighting crews work diligently to defend our forests and recreation areas.
by Capt. William E. Simpson II
7-12-2018
Website

With the dawn of the seventh day, the Klamathon Catastrophic Wildfire situation reports were looking promising. Nevertheless, this catastrophic wildfire had injured at least 3 people and killed one. This fast moving fire torched nearly 37,000 acres and about 2,500 acres of that was in the Soda Mountain Wilderness Area.
According to CAL-FIRE (7-11-18; 7:27 AM):
"Minimal fire behavior was observed last night with the same behavior anticipated today. The fire continues to burn in the Horseshoe Ranch Wildlife area, the Soda Mountain Wilderness and Klamath National Forest. Fire activity will be isolated to Northern flank of the fire. Crews will continue to reinforce current direct lines and will extend direct line construction while also establishing indirect line on the North end of the fire with crews and dozers. Dozers will continue to reinforce contingency line on the North and Northeast perimeter of the fire.
The Horseshoe Ranch Wildlife Area, Soda Mountain Wilderness and Cascade Siskiyou National Monument are difficult areas to access and will remain threatened until crews can make access and complete line to the North."
With a clear morning sky on the Branch U Division (Camp Creek Campground at Iron Gate Lake) the helo-attack began early and in earnest. An assortment of helicopters began arriving around 8:00 AM and started drafting water off Iron Gate Lake. The CAL-FIRE teams sensed the urgency to close this fire down as quickly as possible.
Rotating in and out of the fire line on 12-hour shifts for ground crews and 24-hour shifts for division commanders for the past 5 days was beginning to take its toll. Supplies of food and water were beginning to run low for some of the advanced teams who were deeply inserted into the rugged mountains on the California-Oregon border west of Lone Pine Ridge near Slide Creek where there is still active fire.
Planning the day's attack is a function of collected intelligence, including infrared photography which shows levels of heat on the landscape. This heat signature information is depicted on the maps that the division commanders study very carefully. Hot spots can flare-up quickly if fanned by strong wind and are priority targets for helo-attack and ground crews.
On July 11th, Division 'U' was manning the front line on the Camp Creek containment line and sending teams into the interior to the west-northwest. The Trinity Hot Shots spent the night on the side of a mountain in the vicinity of Slide Ridge on the Scotch Creek Drainage with the intent of getting a helo-drop of food and water and continuing northwest as they worked the hot spots.
One of the fire units coming down the mountain came across a young dog running down Camp Creek road, paws raw from his escape. The men scooped up the little guy and brought him into the drop point at the Camp Creek Campground where the Branch IV division commander James Fitzgerald took the dog into his safe keeping for transfer to safety. It was James' anniversary on July 10th, so after several 24-hour shifts, he was looking forward to that, although I have a feeling if it wasn't his anniversary he would have stayed in the fight till the end.
With dozens of heavy and light trucks and dozers moving up and down Camp Creek Road, dust can become as bad or worse than the smoke, so water tenders constantly drafted Iron Gate Lake at the Camp Creek boat ramp for water to wet roads and suppress the dust. I would estimate that at least 100,000 gallons of water was used just to wet-down the dust. Each water tender holds nearly 5,000 gallons. Generally, the numerous fire engines on scene held about 500 gallons, which some holding 750 gallons.
A small fleet of water tenders was shuttling water 4 miles up the road from Iron Gate Lake to a safe zone in an open field in the Cascade Siskiyou National Monument where it was transferred to holding tanks and awaiting fire engines. In other more remote and rugged mountain areas where ground crews had to hike in for many miles with all their gear, water lines (fire hoses) powered by large pumps sent water many miles into the wilderness and to the advanced ground teams.
Up high in the mountains to the northwest of Camp Creek Campground and Iron Gate Lake, the battle to suppress the wildfire raged as ground crews directed water drops on active fire and hot spots.
The northeastern fire line posed a very significant challenge due the very rugged terrain with steep canyons and heavy fuel loading.
Fighting a massive wildfire without a readily available source of water significantly reduces the odds of suppressing catastrophic wildfire.
So in the end, in addition to the courage of brave men and women, it takes water, and a lot of it.
On July 10th, I ran across Mike Alforque high on the mountain. Mike is a Fire Battalion Chief deployed from Fresno Fire Department to the Klamathon Fire and has worked some of the toughest fires in California during the 2017 season.
While Chief Alforque doesn't have any position on 'dam removal' being from Fresno, CA, he does have a position on the 'value' of the water from Iron Gate Lake, which he offers in this brief interview.
William Simpson is the author of Dark Stallions – Legend of the Centaurians, proceeds from which go towards supporting wild and domestic horse rescue and sanctuary.
Capt. William E. Simpson II is a U.S. Merchant Marine Officer with decades of boating and expedition sailing experience, having logged more than 150,000 miles at sea. Simpson has successfully survived long-term 'off the grid' at sea and at remote uninhabited desert islands with his family for years at a time. He holds a U.S.C.G. 500-ton captain's license for commercial-inspected passenger vessels and he is also a commercial airplane and helicopter pilot.
Simpson spent his formative years growing up on the family's working ranch in the mountains of Southern Oregon, where horses were an integral part of the daily life. William left the family ranch to attend college, which turned out to be a stepping stone into a bizarre lifestyle that led him around the world on an entrepreneurial quest. An adventurer at heart, Simpson and his best friend and wife Laura, spent many years at sea during two sailing expeditions (1991-1994 and 2008-2011) where they experienced some of the many wonders and mysteries of nature. Since retiring, Bill and Laura have changed lifestyles and are once again engaged in a new adventure; living an off-grid lifestyle in the remote wilderness of the Siskiyou Mountains, where they enjoy coexisting with herds of wild horses, along with a myriad of other wild animals. The staggering beauty of the local mountains and valleys is awe inspiring and has influenced Bill to frequently write on subjects related to wild horses as well as wild and domestic horse advocacy, rescue and sanctuary.
< Previous Report
Next Report >
< Previous Report
Next Report >
More Reports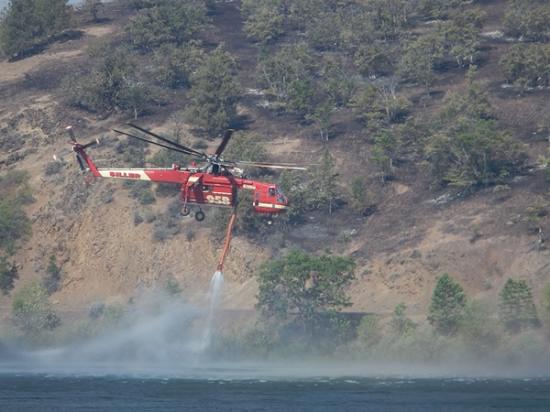 7-9-2018
[Photos and story by William E. Simpson II, on-scene at the Camp Creek fire line (Union and Branch IV Divisions)......
Read More

7-8-2018
I have been harping about the formation of moss and algae on the Trinity for years (about 10 to 15yrs)......
Read More
NorCal.FishReports.com © 2019. All Rights Reserved.
Website Hosting and Design provided by TECK.net