Nor Cal Fish Report
New Melones Reservoir Fish Report for 10-26-2015
New Melones Reservoir Report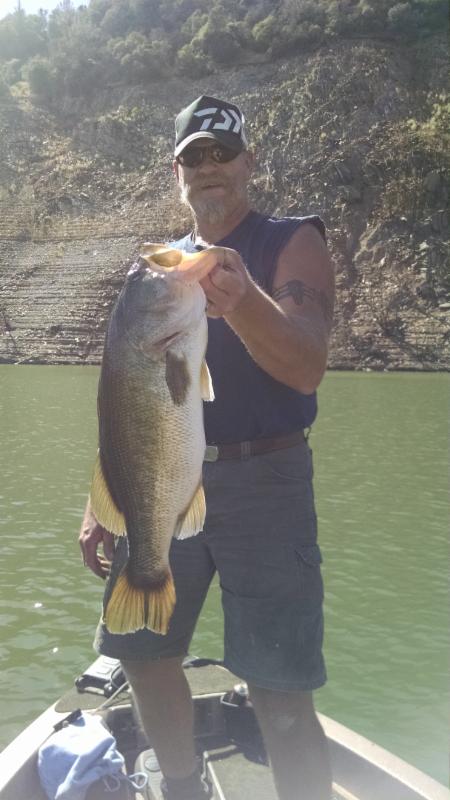 by Glory Hole Sports Staff
10-26-2015
(209) 736-4333
Website

Water Conditions: New Melones Lake is currently holding 278,992 acre-feet of water. The lake level came up one foot this past week. It is currently at 802 ft. above sea level and 283 ft. from full. The water clarity is stained in many areas and will occasionally clear up. The water temperature is starting to cool, with the average being 68-72 degrees. The dam area has been buoyed off due to current that is created when releasing water. Glory Hole Point boat launch is a one lane dirt and gravel road leading off of the end of the point. There is not a courtesy dock and it is best to launch with a 4-wheel drive vehicle.

Trout: Slow. The fall/winter trout bite is right around the corner. Water temperatures are still a bit on the warm side, but slowly cooling each week. Many trout will still be down a little deeper until the surface temperature cools. There have been very few anglers targeting trout, so it is a little tough to produce an accurate trout fishing report. However we can reference our archive of reports. Based on older reports we can assume the shad will be moving into pockets and creek channels and the trout will follow. Try fishing the mouths of main lake coves and creek channels where the trout will stage and wait for schools of shad. Any shad patterned lure will get the attention of feeding trout. The key is to be able to target a specific depth and keep your bait in the strike zone. To do this you can use a diving plane. Troll through an area that you feel will be productive. Try making multiple passes a various depths. Once you get a few bites you can go to a similar area on the lake and fish that same depth to catch fish. We do encourage catch and release for the brown trout as The Department of Fish and Game will no longer be planting them. Carefully measure, weigh and photograph trophy fish and send us pictures and information.

Kokanee: Done. We have not had any kokanee reports for a while now. Typically this is when they start to move up river to spawn. We hope to see some of the kokanee up near the Parrots Ferry Bridge.

Bass: Good. The bass bite has been really good for a few weeks and the fish are feeding heavily on schooling shad. The fall is a great time to hit the water to catch a bunch of fish. There is always the chance to catch a big one, but most anglers are catching a ton of 1 to 3-pound fish. Many different presentations have been working, it is very important to let the fish tell you what they want. It is like there is an on/off switch for each presentation. It is best to have multiple rods rigged with baits that can be fished at various depths. Try using topwater baits in the morning or during low light conditions. Many bass are suspended over deep water. These fish can be difficult to find and catch, but they are usually schooled up and you can catch one after another. You can position your boat directly over the top of them and use a drop-shot rig fished vertically to catch them. Small shad-shaped soft plastics and 4" hand pours are both a good choice. When the bass feed aggressively on schools of shad they will often stun or wound many fish. These baits will fall to the bottom and quiver. Some of the larger, lazy bass know this and will let the little bass do the work. They will sit below and feed on injured shad that are easy meals. Try using a split-shot rig with a shad patterned worm to mimic a wounded shad. The separation between the weight and the hook will allow the bait to lifelessly drift over cover on the bottom.

Catfish: Good. This is a great time of year to target catfish from the bank. With winter right around the corner they are going to feed heavily in preparation of the colder winter months. They will move shallow throughout the day and night to feed primarily on other fish and crawdads. In years past, we have weighed in some giant fall cats, especially if we get a little rain. They will move into feeder creeks and feed on whatever washes into the lake. It is very important to use a sliding sinker or no weight at all. The fish will drop the bait if they feel any weight. It is a good idea to leave your bail open while waiting for them to bite. Let the fish run with the bait for a few seconds, then set the hook. For bigger cats try using a whole mackerel or sardine fished on a double hook rig. Many catfish will roam flats, points, and humps to feed. When choosing a location to fish, focus on flat dirt/rock areas near deep water. Catfish have very poor eyesight, so it is not a bad idea to add a little extra scent. Try using scents that match the natural forage in the lake. Shad, crawfish, rainbow trout and night crawler are good choices for a natural scent. Add them to your frozen bait a few days before your fishing trip to ensure the bait soaks up the scent.

Crappie: Okay. We have had a few reports of anglers catching some nice crappie. Crappie mini jigs and minnow-like soft plastics, fished on light line and ultra-light spinning gear is a good way to target crappie. Also, try using a live minnow fished under a slip-float.


< Previous Report
Next Report >
NorCal.FishReports.com © 2018. All Rights Reserved.
Website Hosting and Design provided by TECK.net